The Best Peanut Butter Cookies Ever
---
---
---

What's wrong with most peanut butter cookies? They end up tasting more like a sugar cookie and not so much like a peanut butter cookie. These flourless peanut butter cookies fix that problem. Not only that but it's a very forgiving recipe. You can change it up or switch it out,  and it always comes out great.
I would love to tell you that I am so clever that I figured this out all by myself. Sadly, I can't. The recipe was given to me by one of the chefs I worked for in my early days, and every pastry chef I've known seems to know this recipe.
---
Four Simple Ingredients For The Best Peanut Butter Cookies
---

Yield:10 to 12 cookies depending on size
Prep Time: 15 minutes
Cook Time: 15 Minutes
---

Equipment
Sheet pans

Cooling racks
Parchment paper
---

Ingredients
1 cup peanut butter
1 cup sugar
1 teaspoon baking powder

1 large egg



---
Method
Preheat oven to 350° F / 175° C.
Add the peanut butter to the bowl of a stand mixer. In a small mixing bowl whisk together the sugar, baking powder, and salt. Add this to the peanut butter and mix on medium-low until the sugar is dissolved and the peanut butter is light and airy. Add the egg and continue mixing until well incorporated.

Form into 12 equal sized balls and arrange on two parchment lined sheet pans. 6 cookies per pan.

Bake in a 350° F / 175° C oven until golden brown, about 9 to 10 minutes. Remove to a cooling rack and rest until completely cool.
---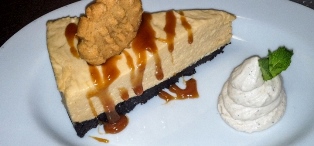 Peanut Butter Mousse Pie
Notes
This recipe is rock solid and it never fails, but the best part is that they taste like pure peanut butter, sooooo gooood! If all of this weren't enough, it scales beautifully. The picture of the peanut butter mousse pie has this cookie sitting on top of it. It was one of the desserts on my menu. I scaled this recipe up 10 times to meet our production needs. Once again the recipe delivered.
You can take this in a lot of different directions. you can substitute most any nut butter for the peanut butter. You can use half brown sugar and half white sugar. The brown sugar produces a thinner crisper cookie. If you want a little more structure add a tablespoon or two of AP-flour. For variety and texture add a 1/4 cup of rolled oats, or chopped nuts. White, milk, or dark chocolate chips make a wonderful addition. Frost it with dark chocolate ganache like the ones in the picture. 

I recommend making the recipe the way it is once or twice, just to get a feel for it, then go crazy.

The point is that I've done all of these things to this recipe and it has never once failed me. 
To be honest, when I make these now I literally scoop some peanut butter into a mixing bowl, pour what seems to be enough sugar, add a pinch of salt, and a couple pinches of either baking soda or baking power and beat it with a wooden spoon. Then I add an egg or two depending on the quantity and beat it in. This really is one of the best peanut butter cookies I've ever tasted.
Tags: best peanut butter cookies, flourless peanut butter cookies
---