Comfort Food Additions
---
You are here:&nbsp
Home

>
The Daily Grub
---
---
In food and cooking a dish is either great or it isn't. Great food starts with great ingredients. Over time these dishes become classics, or comfort food. Comfort food dishes that are tried and true will always be great.
If you share my passion for food and cooking bookmark this page or subscribe to the RSS feed by clicking on that orange button in the left hand margin.
Apr 14, 2017
Gratinee Of Spinach And Egg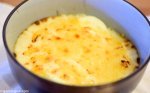 A simple gratinee of spinach and egg with browned garlic.
---
Tags: comfort food, food and cooking
---
---