Baked Sweet Potato Recipe
---
---
---
Is it a yam or a sweet potato? Your grocery store produce department has bins full of yams, so they say. The truth is, if you're in the US odds are you never seen a yam. They are almost impossible to find. What you have seen are different varieties of sweet potatoes. True yams are rarely found in grocery stores. It is a plant that is mostly grown and consumed throughout the tropics. They can range in size from the size of a potato to over 100 pounds, that's a lot of yam.
Why so much confusion? In the United States, firm varieties of sweet potatoes were produced before soft varieties. When soft varieties were first grown commercially, stores needed a way to differentiate between the two. So, stores began marketing soft sweet potatoes as yams.

---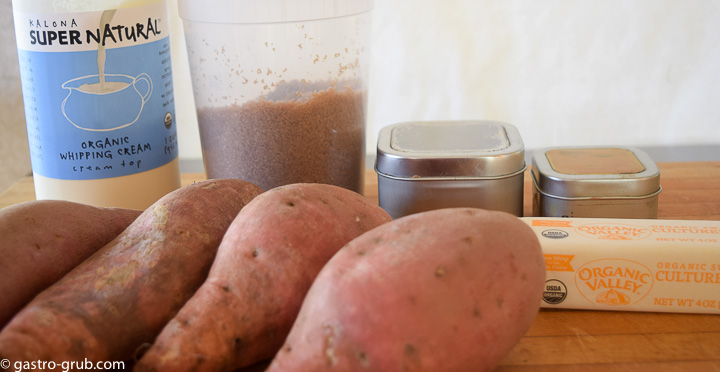 Ingredients for mashed sweet potatoes: Sweet potatoes, butter, cream, brown sugar, cinnamon, and nutmeg.
---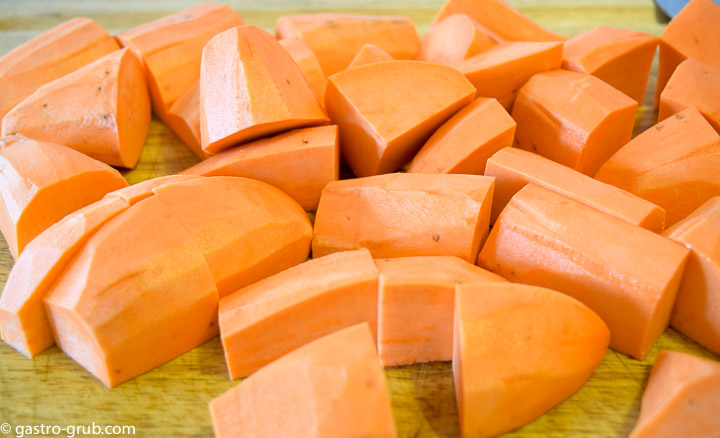 Wash, peel and cut the potatoes into equal sized chunks. Boil until soft and tender, drain.
---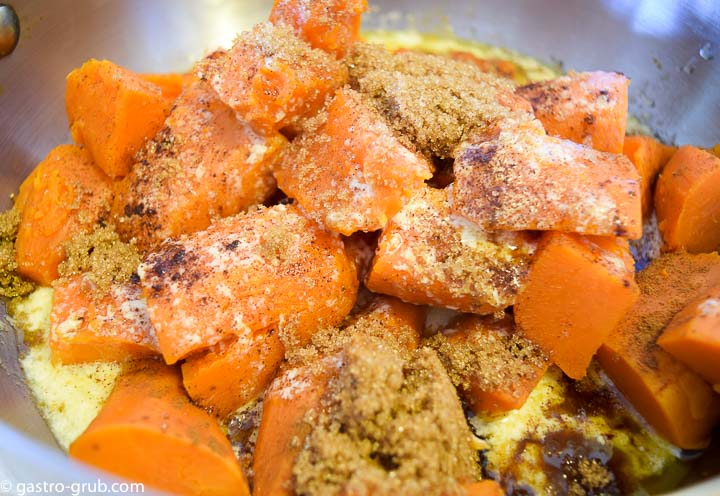 Combine with the remaining ingredients and mash.
---
Transfer to a 8 x 8 x 2 inch baking dish, add a few knobs of butter and a sprinkle of cinnamon and brown sugar and bake at 350º F until heated through, about 30 minutes.
---
Baked Sweet Potato Recipe With Cinnamon Nutmeg And Brown Sugar
---
Yield: 4 to 8 servings
Prep Time: 15 minutes
Cook Time: 50 minutes
---
Ingredients
4 medium sweet potatoes 
4 ounces heavy cream
4 ounces butter
1/2 cup brown sugar
2 teaspoons cinnamon
1/2 teaspoon nutmeg
Kosher salt, to taste
---
Method

Wash and peel the sweet potatoes, then cut them into 1-1/2 inch cubes.
Add the sweet potatoes to a 6-quart pot and add enough water to cover by an inch or so. Season liberally with salt and bring to a boil over medium high heat.
Turn the heat down to medium and continue to cook at a slow boil until the potatoes are cooked through. You should be able to pierce them with a fork with no resistance, about 20 to 30 minutes.
Drain the potatoes in a colander and allow them to rest, in the colander, for 5 minutes to steam off.
Transfer the potatoes back to the pot and add the butter and cream. Then add the remaining ingredients. Using a fork mash and stir the potatoes to thoroughly mix and combine the ingredients.
Transfer the potatoes to an 8 x 8 x 2 inch baking dish and top with a few knobs of butter and a sprinkle of cinnamon and brown sugar.
Bake for 30 minutes in a preheated 350º F oven. Serve immediately.
---
Notes
You can make the sweet potatoes ahead of time and rest on the counter or refrigerate until you are ready to put them in the oven.
Tags: baked sweet potato recipe, sweet potatoes recipes, mashed sweet potatoes recipe

---
---