A Story About A Professional Chef
---
You are here:&nbsp
Home

>
A Story About A Chef
---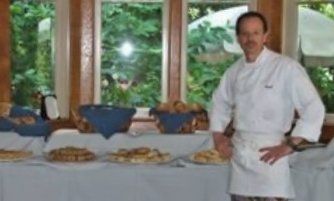 I am a professional chef. I have been in the trenches and my food works. Most of the recipes on my site have been tested in working kitchens as menu items, a daily special, or  a component of a dish.
I have 48 years of cooking experience, and 30 years of professional cooking experience. I have worked in Michelin starred restaurants in Italy and New York. Two of the most difficult places in the world to make it as a chef.
When I explain how to do something it isn't some wive's tale or my opinion, it is my years of experience combined with the knowledge and skills I learned from all the chefs that trained me.
Before I post anything that may be called into question, I research the topic first, to make certain that I present to you, the best information available at the moment.
---
---
About My Background
---
Both of my great grandfathers were bakers, one in Rome, Italy, the other in Palermo, Sicily. My grandmother was a chef and restaurateur. Food and cooking are in my blood. I started cooking when I was seven years old, standing by my grandmother's side.

I developed a deep love for food and cooking, so it makes sense that my lifelong dream has always been to become a chef. That dream has taken me to restaurants all over the world. I went to culinary school in NY and Italy. I have worked with Italian, Southwestern, Mexican, California, Asian, American and French cuisines, and I spent 3 years working in baking and pastry.

My goal, as a chef, has always been to give people simple food that tastes extraordinary. To that end, my food has mostly been about comfort food, albeit refined comfort food, but comfort food nonetheless.

---
---
One Of My Favorite Foods
---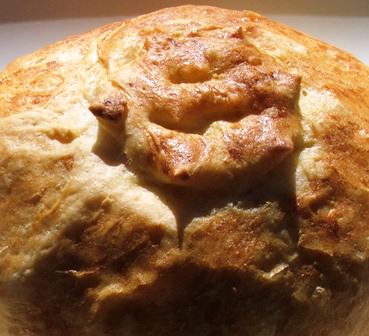 Bread, the ultimate comfort food
I love bread, maybe more than any other aspect of cooking -  I think it is the sexiest most seductive aspect of the culinary arts , the way it feels when you are kneading it, the smell of the yeast when the bread is rising, the smell that fills the house when it's baking.
My god who doesn't have at least one fond memory of bread baking in the oven and the smell filling the whole house. And now when I make bread, man that smell really gets to me. It makes me happy, and nostalgic, and euphoric all at once. That's how food should be!
---
---
A Few Of My Favorite Food Quotes
---
If the divine creator has taken pains to give us delicious and exquisite things to eat, the least we can do is prepare them well and serve them with ceremony.
-Fernand Point

You learn to cook so that you don't have to be a slave to recipes. You get what's in season and you know what to do with it.
-Julia Child

Anyone who's a chef, who loves food, ultimately knows that all that matters is: 'Is it good? Does it give pleasure?'
-Anthony Bourdain
Tell me what you eat, and I will tell you what you are.
-Jean Anthelme Brillat-Savarin

---
Even More Quotes And Sayings
---
In Italy, they have a saying, "cucina Francese ha un codice, cucina Italiano non ha codice. Ha un emozione! Essentially it translates to French food has a code, Italian food does not, it has an emotion.

If you are not having an emotional experience when you eat, you are not eating Italian food.
"I don't see why people make such a to-do about choosing a new cook. There is only one thing that is absolutely essential. I always ask at once, 'Do you drink?", and if she says 'No!' I bow politely and say that I am very sorry but I fear that she will not suit.  All good cooks drink."
-James S Mcneill Whistler quoted in 'Life Was Worth Living by Graham Robertson.
"The fact is that it takes more than ingredients and technique to cook a good meal. A good cook puts something of himself into the preparation -- he cooks with enjoyment, anticipation, spontaneity, and he is willing to experiment."
-Pearl Bailey, Pearl's Kitchen, (1973)
"A good cook is like a sorceress who dispenses happiness."
-Elsa Schiaparelli (1890-1973) Shocking Life
"It is the sauce that distinguishes a good chef. The Saucier is a soloist in the orchestra of a great kitchen."
-Fernand Point
"A good cook is the peculiar gift of the gods. He must be a perfect creature from the brain to the palate, from the palate to the finger's end."
-Walter Savage Landor (1775-1864)
Imaginary Conversations
"A good cook is....an artist whom one may bless after having eaten the courses he has served, an officer who will make one's table the envy of all who have shared its good cheer, a seneschal of grave mien and imposing presence, conscientious in his work, prolific in resources, proud of his art, who gives dignity to his labours."
-Isabella Beeton (1836-1865)
The Book of Household Management (1861)
"The ambition of every good cook must be to make something very good with the fewest possible ingredients."
-Urbain Dubois (1818-1901)
When god is mad at you, he makes you a chef. When he's really pissed off he gives you a restaurant.
-Author Unknown
"Have you considered making a version of this margherita pizza for your readers who are trying to avoid gluten, dairy and nightshades?"
-The Cooking District
---
---
Some Of My Favorite Food Movies
---
Tortilla Soup - This is a great remake of Eat Drink Man Woman. 
Chef - A great flick about a chef that loses his job and rediscovers his passion when he opens a food truck.
Chocolat - Juliette Binoche, Johnny Depp and chocolate!
Like Water for Chocolate - A very romantic movie about a young woman that is forbidden to marry the love of her life.
The Big Night - This movie will make you want to be Italian. The omelette scene at the end is sublime.
Ratatouille - A movie about a rat with a refined palate, that aspires to be a great chef.
Tags: about, comfort food, food and cooking
---
---