Banging Street Tacos
---
---
---
I came up with this idea one night when I was making family meal for the staff. As it turned out everybody loved them so much that I put them on the special menu. Why only on the special menu? Because I made them form the meat that I picked off the bones after making beef stock. That's right, I essentially turned something that was being thrown out into something that made money. However we only made stock once or twice a week so they really couldn't go on the regular menu.
---
Street Tacos
---
I really love this recipe, not just for its economy, but because the tacos really are absolutely delicious, as you will see when you make them. Yet another reason for loving them is just how simple and easy they are to make. The meat has just five additional ingredients and there is no set amounts. It works more like a ratio than a recipe.

Why are they street tacos? Well, street tacos are literally tacos you buy on the street, usually from a cart or truck. They are small and can be eaten with one hand in a few bites and that is exactly what these are.

Since they are made with leftover meat after making stock the amount of oil that you need to make these will seem like a lot, but it is absolutely necessary. Remember, after making stock that meat is going to be dry and flavorless, because all of the flavor from the meat is now in the stock. In addition any fat that may have been present is cooked out of the meat.

---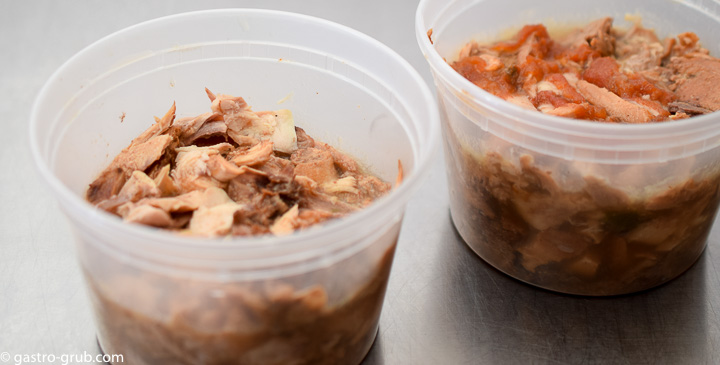 I have one container of shredded meat for tacos, on the left. The other container is for the dogs.
---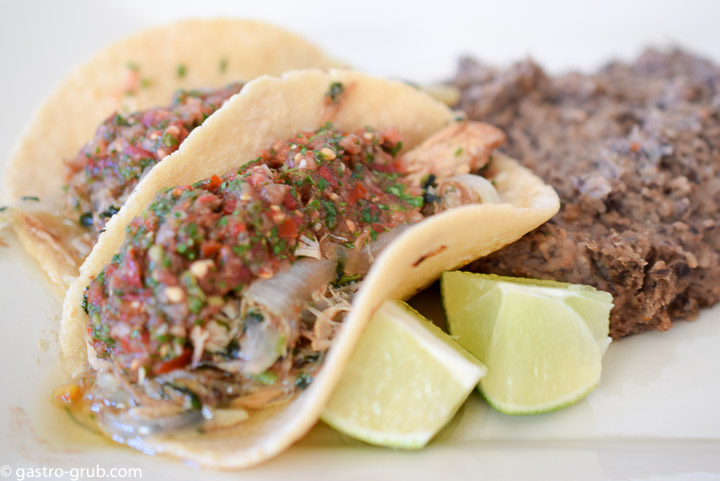 Those are some good looking street tacos and absolutely delicious.
---
A Simple Recipe For Street Tacos 
---
Yield: varies, about 6 to 8 tacos
Prep Time: 20 minutes
Cook Time: 15 minutes
---
Ingredients

To Serve

4-inch corn tortillas - (2 per taco)
Limes cut into wedges
For The Filling

Peanut oil for shallow frying
1 onion, sliced
1 to 2 serrano chilies, seeds and pith removed, diced
2 to 3 cloves garlic, minced
Shredded meat picked from stock, about 2 cups, shredded
Stems from cilantro leaves, minced
1 lime, halved
Kosher salt to taste
For The Salsa

1/4 of a medium white onion, diced
2 cloves garlic, minced
1 serrano chilies, seeds and pith removed, diced
1/2 bunch cilantro, washed and picked - reserve the stems for above
1 lime
Kosher salt to taste
2 to 3 roma tomatoes, diced
---
Method

Preheat your oven to 200º F. Wrap the tortillas in aluminum foil and place in the preheated oven.
For The Filling

Place a 12-inch cast iron pan over a medium flame and get the pan hot. Add enough peanut oil to coat the bottom of the pan. Add the onion, chilies, and garlic and cook, stirring occasionally until the onion is translucent. Add the meat and cilantro stems. Add enough additional oil so that the level is halfway up the filling, in the pan. 
Cook until the meat is heated through and the cilantro has imparted its flavor. Squeeze the lime juice over the filling, season with salt and stir. Remove from heat and set aside.
For The Salsa

Combine the onion, garlic, chilies, cilantro, juice from half the liime, and a pinch of salt in the bowl of a food processor. Pulse until you have a uniform fine dice. Add the tomatoes and pulse until the tomatoes are finely diced. Taste and adjust the flavor with additional salt and lime juice. Set aside.
To see the salsa step by step look at my chips and salsa recipe.
To Serve

Remove the tortillas from the oven. Stack two tortillas on top of one another. Using a slotted spoon place 2 to 3 generous tablespoons of filling on top of each taco shell. Add about 2 to 3 teaspoons of salsa per taco.
Arrange on plates using lime wedges to hold up the sides of the tortillas.
---
Notes

Why so much oil? Well when meat has been cooked through like it is when you make stock or broth there is no flavor or fat left in the meat, and it is incredibly dry on your palate. All the extra fat you add to the meat when frying it tricks your palate into believing there is moisture and flavor in the meat.
Once you give the recipe a try, as is, you will develop a sense of what you are after. From there you can adapt it to any leftover meat like pork, chicken, turkey or roast for example. However, most leftover meat is not going to require as much oil so be certain to reduce the amount of oil or fat accordingly.

When you are cooking with cilantro the stems have a lot of flavor, however they are not visually appealing and they leave an unpleasant mouthfeel if they are not minced. So be certain to mince the stems very fine, about 1/8 inch or smaller.
You'll notice in the picture with the tacos I only used one tortilla per taco. I simply prefer them with less tortilla, however, they have a tendency to break if you do that. That's why I said to use two tortillas per taco.
You'll also notice that there seems to be two containers of meat in the picture. There isn't, it's one container of shredded meat and one container of parts for the dogs.
Tags: street tacos, mexican tacos, how to make tacos, tacos mexicanos, shredded beef tacos
---
---