Delicious Gourmet Cranberry Sauce
---
---
---
"Food historians tell us the practice of pairing of citrus fruits with fatty meat is thousands of years old, likely originating in the Middle East. Examples are found in many cultures and cuisines. The acid in the fruit cuts the fat in the meat, making the dish more enjoyable and digestible. Think: pork & applesauce; goose & cherry sauce, fish & lemon, and duck a l'orange. In the case of lean meats such as modern turkey and chicken, cranberries add flavor to what is generally considered a bland food. Visually? Cranberries add a splash of vibrant color to a traditional "earth tone" plating."
---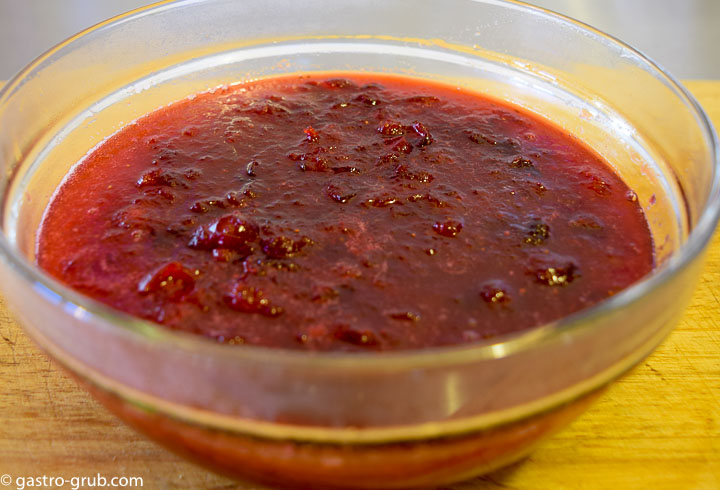 Easy Homemade Ginger Orange Cranberry Sauce
---
What I love most about this recipe is the combination of flavors. When you taste it you get the tartness of the cranberries, followed by the sweetness of the sugar, which, immediately mellows the tartness and is replaced by a pleasant orange flavor that finishes with a subtle ginger taste. It is very well balanced with nothing overpowering and absolutely better than anything you can buy that is ready-made.
Not only is it better than anything you can buy, it is so simple and easy to make that no one should ever buy cranberry sauce in a can again.
Ginger Orange Cranberry Sauce
---
Ingredients for my cranberry sauce: organic cranberries, organic cane sugar, organic ginger, and organic oranges.
---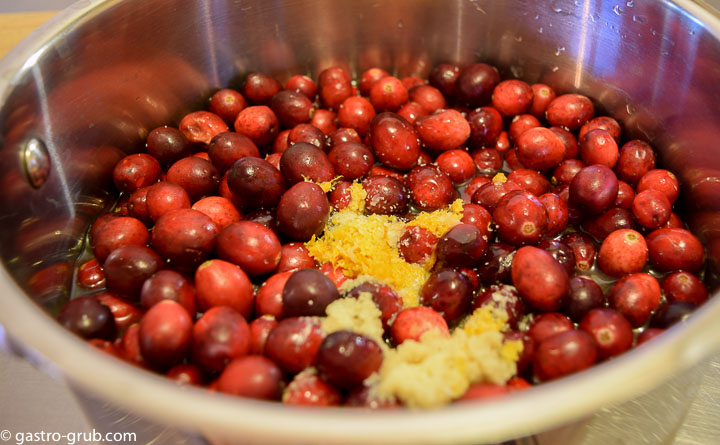 Combine all the ingredients into a non-reactive pot and bring to a low boil. Cook until the cranberries pop open.
---
Ginger Orange Gourmet Cranberry Sauce
Yield: 1 quart
Prep Time: 15 minutes
aCook Time: 10 minutes
Ingredients
455 grams / 16 ounces fresh cranberries
450 grams / 2 cups granulated sugar
120 ml / 1/2 cup water
1 orange, zested and juiced
1 tablespoon finely chopped ginger
Pinch salt
Method
Combine all of the ingredients in a heavy saucepan. Cook over medium heat until the berries pop open, Remove from heat.
Skim any foam off of the surface with a metal spoon and discard. Cool to room temperature.
Refrigerate, covered until ready to serve.
Notes
Fresh cranberry sauce will keep in the refrigerator for up to 3 months.
If you would like to turn this into jellied cranberry sauce all you need to do is pass the sauce through a medium mesh strainer while it is still hot.
Tags: gourmet cranberry sauce, cranberry sauce thanksgiving, homemade cranberry sauce
---