Butternut Squash Fritters
---
---
---

I love fritters, especially butternut squash fritters, they are incredibly easy to make and they taste great. Seriously you can't go wrong with them. At their most basic they are a pancake batter without the butter or oil. 
The best part is, you can take them in any direction you like, that's what I meant about not going wrong with them. You can add almost any vegetable, to make vegetable fritters like onions, peppers, squash, or cauliflower. Seafood is an excellent addition, especially shellfish or salt cod. Fruit and cheese like apples and sweetened cream cheese to make apple cheese fritters. The only limit is your imagination.
---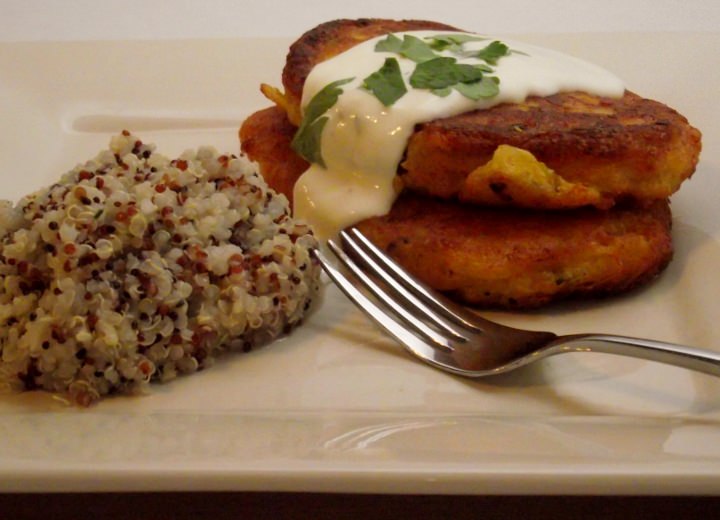 Butternut Squash Fritters and Quinoa
---
Bacon Leek and Butternut Squash Fritters

---
---

Equipment
Sheet Pans




Blender

Parchment Paper
---

Ingredients
For The Sauce
56 grams / 2 oz fat free Greek yogurt

15 grams / 1/2 oz roasted garlic aioli, 

juice of 1 lemon

zest of 1/2 lemon
For The Fritters
300 grams / 10.5 oz / 2 cups butternut squash

5 slices bacon, thick sliced

1 small leek, washed and diced

1/4 small sweet onion, diced

Extra virgin olive oil, to coat the pan

220 grams / 7.7 oz / 1-1/2 cups all-purpose flour

5 grams / 1 tsp kosher salt

7 grams / 2 tsp baking powder

2 eggs

240 ml / 8 oz whole milk

zest of 1/2 lemon

Peanut oil for frying
---

Method
For The Sauce
Combine the yogurt, aioli, lemon juice, and lemon zest in a small non-reactive bowl. Whisk to thoroughly combine. Season to taste with kosher salt.
Rest in refrigerator until ready to serve.
For The Butternut Squash Fritters
Preheat oven to 350° F / 175° C
Wash the outside of the squash. Using a heavy knife slice the squash in half and lie cut side down on a parchment lined sheet pan. Roast in a 350° F / 175° C oven until cooked through. Squash is done when you can insert a paring knife through the squash with little resistance. About 30 minutes. Remove from oven and allow to cool to the touch, on the counter.
Arrange bacon slices on a parchment lined sheet pan and bake in a 350° F / 175° C oven until crisp, about 20 minutes. Remove from oven and drain bacon on paper towels. Save or discard the grease.
Once the bacon is cool enough to handle arrange strips on cutting board and slice crosswise into 1/4 inch / 5 mm strips. Set aside. 
Add the leek and onion to a small frying pan and sweat in olive oil until the onion is translucent. Remove and combine with the bacon.
In a medium sized mixing bowl combine the flour, salt, and baking powder. Whisk to combine and set aside. 
Once the squash has cooled, measure out the squash you need. Wrap any remaining squash in plastic and reserve in refrigerator. 
Divide measured squash in half. Place half into the bowl of a blender and add the eggs and milk. Blend  on medium until the squash is pureed.
Using your fingers roughly break up the remaining squash and add it to a large mixing bowl. Add the bacon and onions to the squash. Add the lemon zest and toss to combine. 
Add the egg mixture to the flour mixture and stir to combine. Add the batter to the bacon mixture and stir to distribute. Set aside and let rest for 30 minutes, to hydrate the flour.
When the batter is almost ready add enough peanut oil to a large saute pan so that the oil comes up the side of the pan about a 1/4 inch / 5 mm.
Place pan over medium heat and allow to get hot. Drop large spoonfuls of batter into oil and spread the batter out to form a fritter. Fry until golden brown, turn and fry the other side until golden brown. Remove to a paper towel lined plate and rest in a cool oven. Repeat until all the batter is used.
To Serve
Stack 2 to 3 fritters atop one another and top with a dollop of the roasted garlic sauce. Finish with a grind or two of black pepper, if you like.
---
---