Ahi Tuna Salad And Mahi Mahi Sashimi
---
---
---
This is an incredibly easy dish to prepare. But you really need to be ok with eating raw fish.
---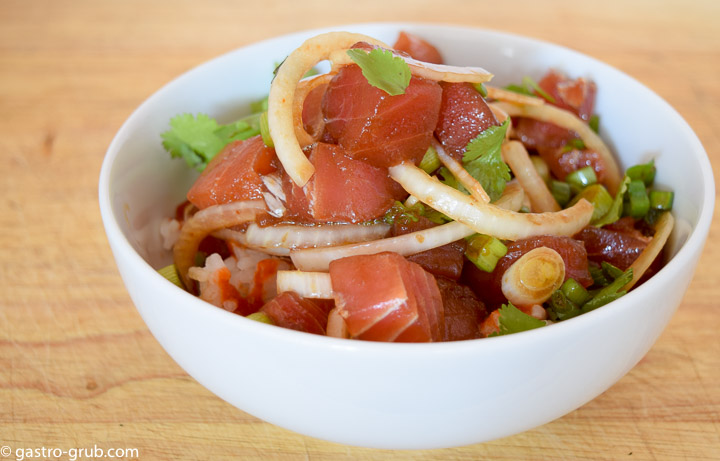 Ahi Tuna Salad or Hawaiian Poke
---
Mahi Mahi Sashimi
---
Hawaiian poke is a raw fish salad, often served over rice, and typically prepared with ahi tuna. The variations of this traditional dish are many, but some of the more common additions or substitutions include shredded carrot, fresh or pickled ginger, sesame seeds, and wasabi.
Sashimi is thinly sliced raw meat, typically fish, that is served without rice.
Sushi is not raw fish, rather it is vinegared rice mixed with other ingredients and may or may not include raw fish.
---
Ingredients for sashimi and poke: ahi tuna, mahi mahi, green onions, white onion, cilantro, and jalapeño peppers.
---
White rice for Hawaiian poke.
---
Ahi Tuna Salad And Mahi Mahi Sashimi
---
Yield: 3 servings
Prep Time: 20 minutes
---
Ingredients
For The Poke

2 cups white rice, cooked and cooled to room temperature
Siracha, to taste
2 ahi tuna steaks, cubed - sashimi grade
1/4 white onion, sliced thin
1 bunch green onions, sliced
14 bunch cilantro, picked
Soy sauce, to taste
Sesame oil, to taste
For The Sashimi

1 mahi filet, cut into bite size pieces - sashimi grade
1 jalapeno chili, sliced thin
Soy sauce, to taste
Extra virgin olive oil, to taste
---
Method

For The Poke

Divide the rice into 3 serving bowls and set aside. Drizzle with a little siracha.
Combine the ahi tuna, white onion, green onion, and a few cilantro leaves in a medium mixing bowl.
Add a few drops of siracha and sesame oil. To this add soy sauce to taste. Mix by hand to thoroughly coat and distribute the ingredients. 
Divide the tuna mixture over the rice by mounding it on top.
Serve immediately.
For The Sashimi
Arrange the pieces of mahi mahi on a plate. Top each piece of fish with a slice of jalapeño.
Add enough olive oil to surround the fish in a shallow pool. 
Add enough soy sauce to create a pool inside the olive oil.
Serve immediately.
---
Notes
Once again, when you use sesame oil, go light or the flavor will overpower everything else.
For raw fish preparations purchase fish that is labeled sashimi grade.
Consuming raw fish can cause various food-borne illnesses such as listeria, salmonella, Staphylococcus aureus and Vibrio parahaemolyticus, if the fish isn't treated properly. To kill off any parasites sashimi grade fish must be frozen at a very low temperature for a set period of time. Yes, that means the raw fish that is served in sushi restaurants have been frozen.
To thaw fish place it in the refrigerator, at 41º F or lower, and keep it there until you are ready to serve it.
Tags: ahi tuna salad, hawaiian poke recipe, sashimi vs sushi, sushi bowl, sashimi definition
---
---