The Best Pots And Pans 
---
---
---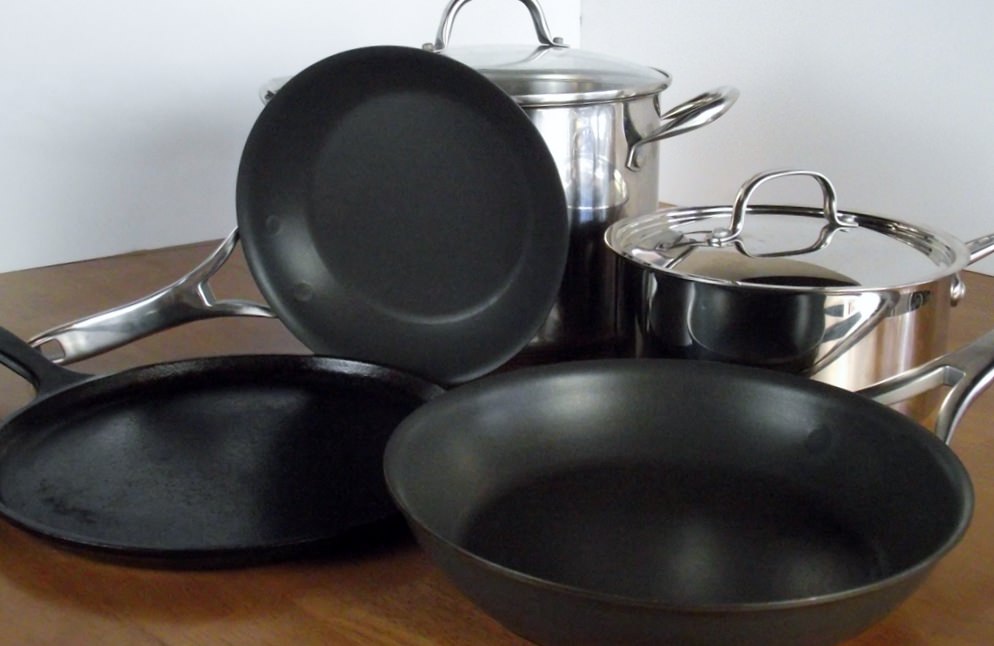 ---
The Best Pots And Pans Are Triple Clad 
The best pots and pans are not a brand they are a manufacturing process. They are made from three different layers of metal, and some are made with 5 layers. Typically, the outside is stainless steel, the middle layer is aluminum or copper, and the inside layer is stainless steel again. These are items that are worth spending a little extra money on, to get good ones. If you buy really nice pots you will have them for the rest of your life.
---
All Clad Cookware

All Clad cookware are my favorite pans to use. What sets them apart from less expensive cookware is their construction and the materials and craftsmanship that go into them. All Clad makes some of the best pots and pans there are.
Their professional cookware is all, at least, triple clad while some of their collections are five ply. The copper core, for example, is constructed with a magnetic layer of stainless steel on the outside, a layer of aluminum, a core of copper, another layer of aluminum, and the interior is stainless steel. Not only are their pans clad but they are clad all the way up the sides. This gives more even heat distribution and better conduction, eliminating hot spots.
If you would like to see a great visual representation of clad cookware check out the COPPER CORE page on All-Clad's website (www.all-clad.com).
---
---
Le Crueset

Le Creuset is a French cookware manufacturer. They started by producing enameled cast iron and have since expanded their line to include stainless steel, enamel on steel, nonstick, and others. They produce a wide range of pots and pans, bakeware, and kitchen tools - all very pricey but very nice.
---
---
Mauviel

Mauviel is another French manufacturer of fine cookware. They started with copper cookware and have expanded from there. They offer a wide range of cookware, bakeware, and kitchen pots and pans like bain-marie, racks, jam pans and much more. Again, very expensive but worth it.

---
---
Somewhere In The Middle
---
Anolon

Anolon is a brand that is owned by Meyer Corporation. They are worldwide and produce a number of cookware lines. Circulon, Farberware, Cake Boss among others. Anolon makes some of the best nonstick cookware in their price range. It performs well and the nonstick surface is resistant to damage, as long as you don't abuse them. The pan bottoms are triple clad with a copper core.
---
---
Lodge Cast Iron Cookware

Some of the best performing, longest lasting cookware I have ever owned is Lodge cast iron cookware. They are among my favorite pots and pans to use. If you take care of them they will give you a lifetime of service, and when seasoned properly they are truly nonstick. They are incredibly versatile, you can use them on your range, in the oven, or over a bed of coals. you just can't go wrong with cast iron cookware.
---
---
Easy On The Budget
---
Cuisinart

Cuisinart manufactures a wide range of products for the home and kitchen. I like their cookware for its affordability and the performance seems better than expected for the price range. If you are among the budget conscious, and who isn't, they are a good choice.
They are single ply construction with a clad bottom that has an aluminum core and stainless steel exterior and interior. In their price point, Cuisinart makes some of the best pots and pans.
---
---
What You'll Need

You'll want a Dutch oven, ideally cast iron or ceramic coated cast iron. There just isn't anything better for slow cooking.
A large stock pot, 8 to 12-quart will do. Making stock is relatively easy if you have a stock pot. If your budget allows buy both, an 8-quart and 12-quart pot.

Sauce pans in 1, 2, 3, and 6 quart sizes. Ideal for sauces, blanching, and simmering liquids.

Saute pans in 10 and 12 inches. Their high heat capacity makes them ideal for searing as well as sauteing.

Non-stick pans in 8 and 10 inches. These are great for eggs, cheese, or anything that has a propensity to stick.

Fry pans in 8 and 10 or 12 inches. These are the pans you see professional cooks using on a line.

A small saucier is a nice pan to own. The rounded interior makes it ideal for sauce making.

Cast iron pans in 10 and 12 inches. I can't say enough good about cast iron. They are perhaps one of the most versatile tools in a kitchen.

A roasting pan with a rack. These are great anytime you want to roast something and keep it out of the juices in the bottom of the pan.
---
---
What Do I Own

One 12-quart stock pot, two 8-quart stock pots, one 12-quart pasta pot, one 4-quart saucepan, one 2-quart saucepan, one 1-quart saucepan, one 1-quart saucier, one 12-inch saute pan, one 10-inch fry pan, two 10-inch non stick fry pans, one 8-inch non stick fry pan, one 10-inch cast iron griddle pan, one 8-inch cast iron skillet, and one 6-quart enameled cast iron Dutch oven.
Tags: best pots and pans, all clad cookware, lodge cast iron cookware, best nonstick cookware
---
---