Beurre Blanc Sauce
---
---
---
This Beurre blanc recipe is not an easy sauce to make. It is fussy, finicky, and altogether uncooperative. The reason you see so many recipes for beurre blanc sauce that incorporate heavy cream is because the cream stabilizes the sauce.

---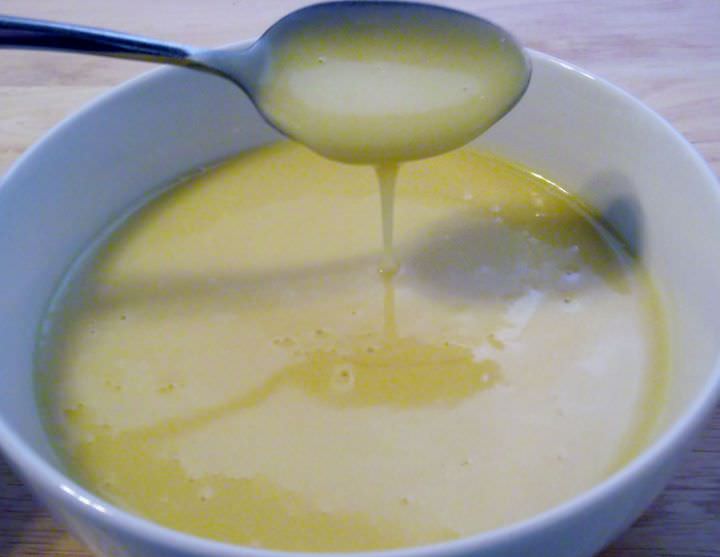 Beurre Blanc
---
Think about the sauce for a moment, in my beurre blanc recipe, as in any classic recipe you are emulsifying a half pound of butter into a tablespoon of liquid.

So why would you ever want to make it, if it's so fussy, and why on earth would you want to make a classic beurre blanc when you can make it by incorporating heavy cream?
The easiest answer is that a classic beurre blanc sauce tastes altogether better than a beurre blanc made with cream. The cream imparts a heavier texture to the sauce. As for the first half of the question, have you ever eaten shrimp scampi? That sauce, if it's made right, is a beurre blanc. Granted, it's a pan beurre blanc, but a beurre blanc nonetheless.
---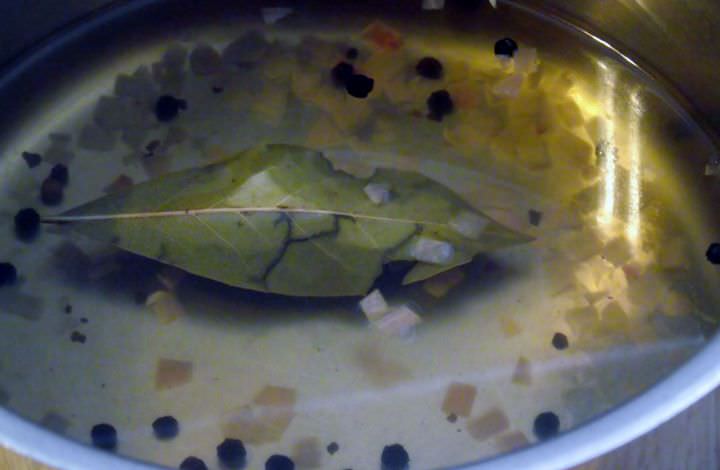 White wine, white wine vinegar, shallot, peppercorn, and bay leaf.

---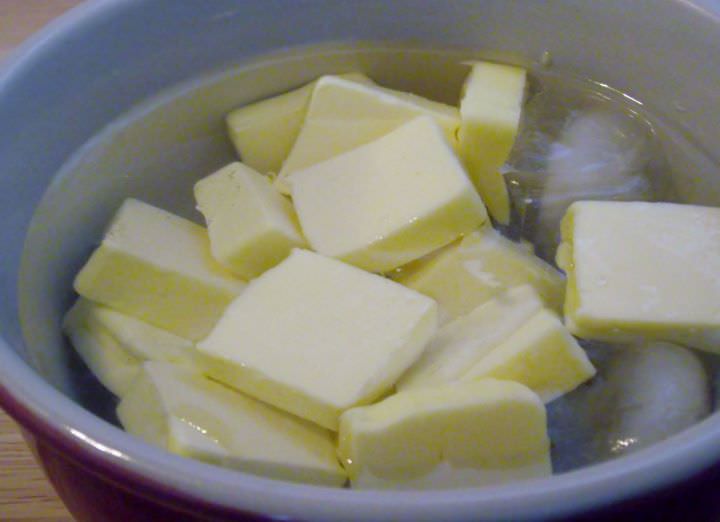 Butter in an ice bath.
Anytime you need to keep butter cold while working with it Add some ice to a bowl, put the butter on top, and fill the bowl with cold water. This won't have any effect on the butter but it will keep it ice cold.
This is a trick I learned while working the line. Professional kitchens get hot. So hot that the prep refrigerators don't keep butter cold enough. So, this is what we do.
Beurre Blanc Sauce Or White Butter Sauce
One taste of this smooth creamy butter sauce and you'll understand why it's a French classic, and a comfort food staple, at least in France.
---
---
---
Yield: About 1 1/2 cups / 350 ml
Prep Time: 5 min
Cook Time: 15 min

---
---
---
Equipment
---
Ingredients
1 tablespoon 15 ml white-wine vinegar
1-1/2 cups / 350 ml dry white wine
1 small shallot, minced
1/2 tsp /  2 grams whole black peppercorns
1 bay leaf
Salt and freshly ground white pepper, to taste
8 ounces / 226 grams / 2 sticks unsalted butter, chilled and cut into 16 pieces
---
Method
In a 1 1/2 quart saucier, or saucepan, combine vinegar, wine, shallots, peppercorns, and bay leaf and bring to a boil, over high heat.
Reduce heat to medium and continue boiling until the liquid has reduced to about, 1 1/2 tablespoons. Remove the bay leaf.

Remove from heat and immediately swirl or whisk in 2 pieces of chilled butter. As the butter is incorporated into the liquid add another piece and continue to whisk.
Return pan to low heat and while constantly whisking add successive pieces of butter. If the sauce is getting too hot remove it from the burner occasionally to cool the mixture.
When all of the butter has been added, remove from heat. The sauce will be thick and creamy. Adjust seasoning to taste and pour sauce through a medium-mesh sieve into a slightly warmed sauce boat.
---
Notes
If you only need to hold the sauce for 10 to 15 minutes strain it into a warmed holding dish.
To hold the sauce for a longer period, pour it into a warmed thermos or coffee carafe.

Tags: beurre blanc sauce, beurre blanc recipe
---
---