Blue Cheese Salad Dressing
---
---
---
Blue cheeses are some of the most amazing cheeses there are. Among the better known are Gorgonzola, an Italian blue cheese, Roquefort, a French Blue, and Stilton, an English Blue cheese.
All three of these cheeses have a PDO, or Protected Designation of Origin. Essentially that means that the cheeses are protected by laws controlling where they are produced and the kinds of milk they are produced with, as well as the packaging and labeling.
All three cheeses are produced using the same fungus, penicillium roqueforti. While These are delicious cheeses they are very expensive, so, often I use Maytag blue cheese. It is an American blue cheese with a nice flavor and texture. It is so named because the cheese is produced on the old Maytag property, originally by the sons of the founder of Maytag Corporation.
Homemade Blue cheese dressing is very similar to buttermilk dressing, or what people commonly call ranch dressing. The significant differences being the ratio of buttermilk to mayonnaise. Blue cheese dressings typically are thicker in texture because they incorporate much less buttermilk.
---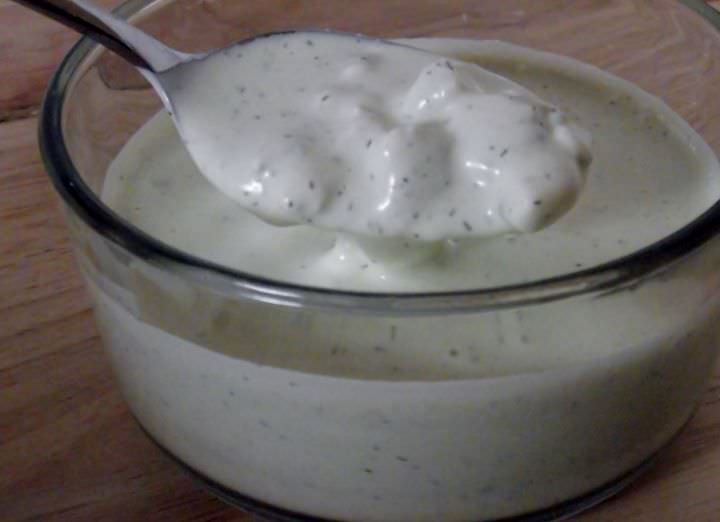 Blue Cheese Salad Dressing
---
---
Homemade Blue Cheese Dressing With Scallions And Dill
---
Yield: 1 cup
Time: 10 minutes
---
---
Equipment
Blender or stick blender
Whisk
---
---
Ingredients
100 grams blue cheese, crumbled (3.5 ounces)
1 gram dried dill (1 teaspoon)
65 grams buttermilk (1/4 cup)
125 grams scallion lime aioli (1/2 cup), See recipe
Kosher salt, to taste
---
---
Method
Combine a quarter of the blue cheese in the bowl of a blender. Add the dill and buttermilk. Process on high until smooth and creamy.
Transfer the mixture to a small mixing bowl and add the aioli, or mayonnaise. Whisk to just combine everything and stir in the remainig blue cheese crumbles.
Season to taste with kosher salt.
---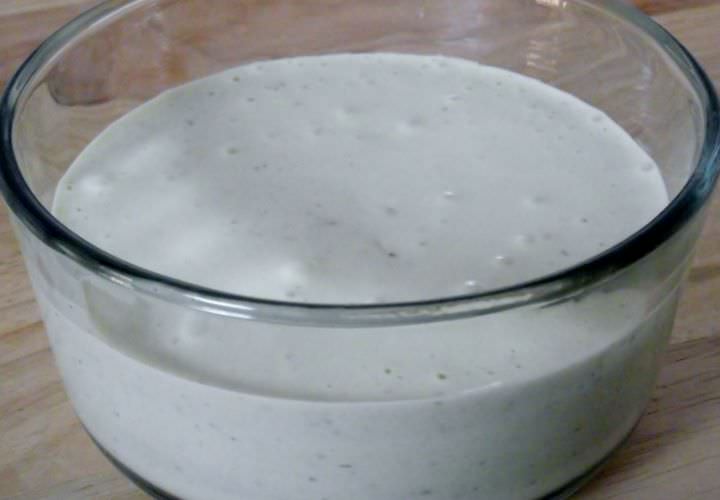 ---
---
Classic Blue Cheese Salad Dressing Recipe
---
Yield: 3 cups
Time: 10 minutes
---
---
Ingredients

1/4 cup buttermilk
5 ounces blue cheese, crumbled
1 clove garlic, germ removed and minced
2 cups mayonnaise
Kosher salt, to taste
Freshly ground pepper, to taste
---
---
Method

Place the buttermilk, a quarter of the blue cheese, and the garlic in the bowl of your blender. Puree until smooth. 
Transfer to a medium mixing bowl and whisk in the mayonnaise. Fold in the remaining blue cheese crumbles. Season to taste with salt and pepper.
---
---
Notes
To remove the germ from a clove of garlic, peel it and slice it in half, lengthwise. You will see the green germ running along the center, just pull it out. The germ tends to be strong and overpowering. In many preparations using raw garlic removing the germ is a common practice.
Creamy salad dressings are a very popular dressing choice. Their relatively high fat ratio makes them taste wonderful.
Tags: blue cheese salad dressing, blue cheese dressing recipe, homemade blue cheese dressing

---
---