Buttermilk Biscuits Recipe Light Flaky Delicious

---
---
---
"Biscuit...The word derives from the Latin words "bis" (twice) plus "coctus" (cooked). In England a biscuit is what Americans usually call a cracker or cookie. The American meaning for biscuit was first noted by John Palmer in his Journal of Travels in the United States of North America, and in Lower Canada, (1818), and by 1828 Webster defined the confection as "a composition of flour and butter, made and baked in private families." In general usage such puffy leavened little breads were called "soda biscuits" or "baking-soda biscuits," in contrast to the unleavened cracker type....Recipes for soda biscuits are found in every nineteenth-century cookbook, especially with reference to the cookery of the South...The South is also the home of the beaten biscuit, which was first mentioned in 1853...In 1930 General Mills began selling a packaged quick biscuit mix called Bisquick that was a great success and spawned many imitators."
---The Encyclopedia of American Food and Drink, John F. Mariani [Lebhar-Friedman:New York] 1999 (page 29) - Food Timeline
---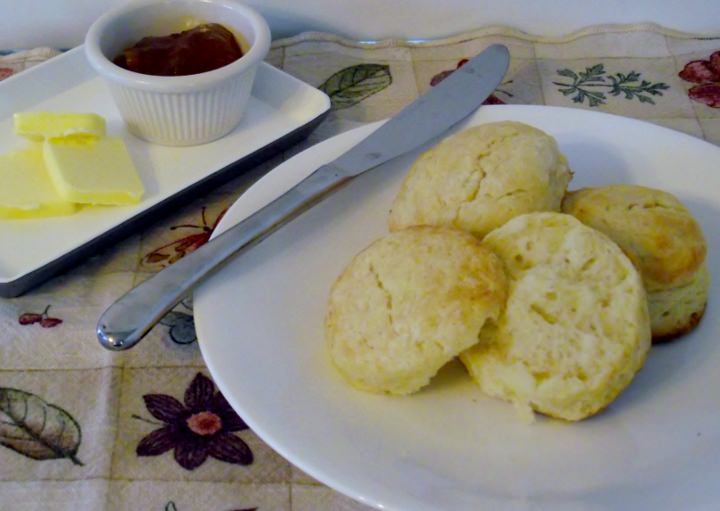 Buttermilk Biscuits Recipe
---
Buttermilk Biscuits Recipe
---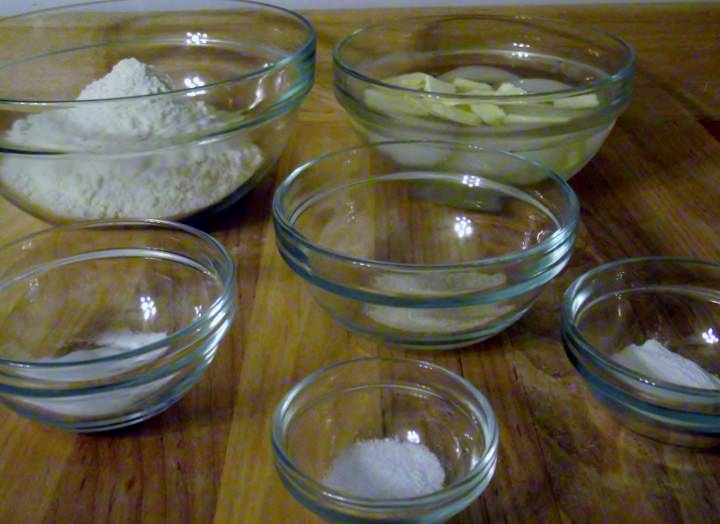 Mise en place for my buttermilk biscuits recipe.
---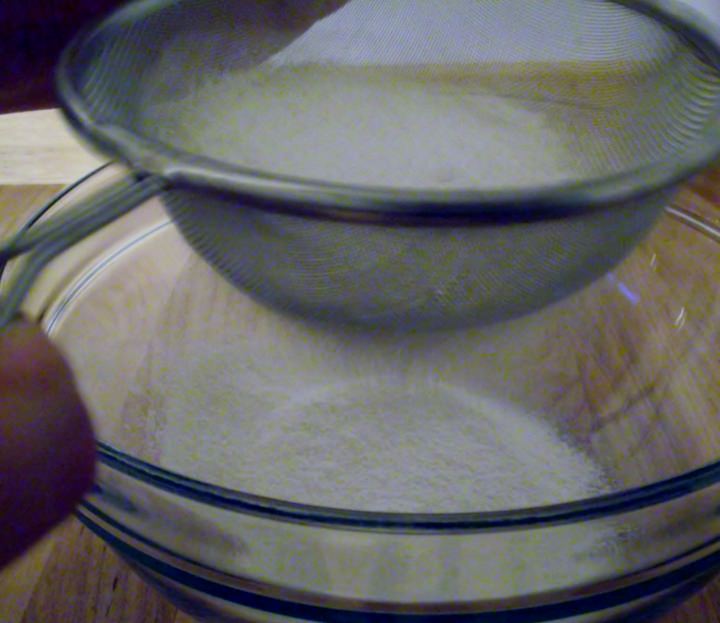 Sifting the dry ingredients together.
---
Cutting the butter into the flour mixture.
---
Add the buttermilk and just bring the dough together.
---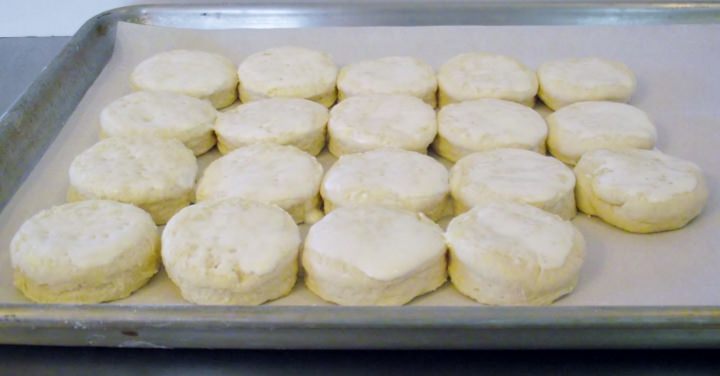 Roll the biscuits out and arrange on a sheet pan, just slightly touching.
If you want to brush the tops, this is when you do so.
---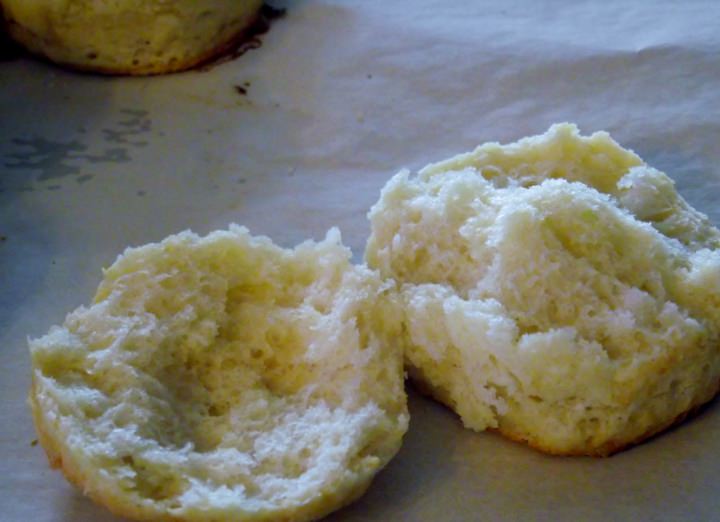 That is a sexy biscuit, light, flaky, and tender.
---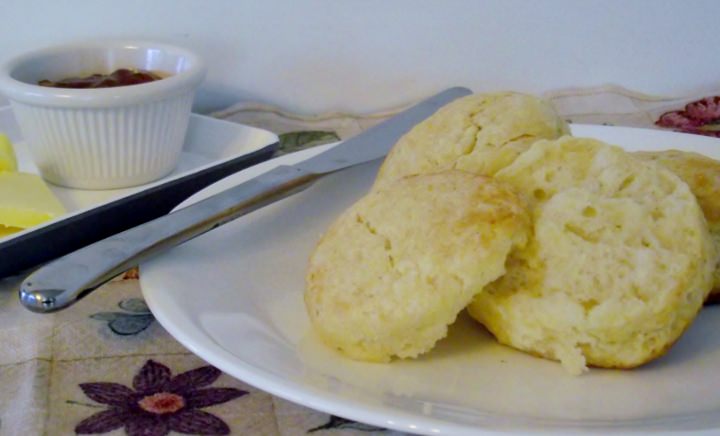 Buttermilk biscuits, apricot jam, and butter.
---
How To Make Biscuits That Will Bring A Homesick Southerner To Tears
---
Yield: 16 to 24 biscuits, varies by size
Prep Time: 15 minutes
Cook Time: 15 to 20 minutes
Oven: 450° F / 230° C
---
View the buttermilk biscuits recipe in: Volume | Ounces | Grams

---
Ingredients
---
2 cups flour
4 teaspoons baking powder
1/4 teaspoon baking soda
1 teaspoon sugar
1 teaspoon salt
7 tablespoons butter, cut into small pieces, 1/2 by 1/2 inch
1 cup buttermilk, chilled
---
11 ounces flour
1/2 ounce baking powder
1/4 teaspoon baking soda
1 teaspoon sugar
1 teaspoon salt
3-1/2 ounces butter, cut into small pieces, 1/2 by 1/2 inch
8 ounces buttermilk, chilled
---
310 grams flour
16 grams baking powder
1 gram baking soda
5 grams sugar
5 grams salt
100 grams butter, cut into small pieces, 1 by 1 centimeter
236 milliliters buttermilk, chilled
---
Method
Preheat oven to 450° F / 230° C.
In a large mixing bowl, sift the flour, baking powder, and baking soda together. Add the salt and sugar and whisk to thoroughly combine. 
Cut the butter into the flour mixture using a pastry cutter. Next work the butter into finer pieces using your fingertips. Rub the butter into the dry ingredients until the mixture looks like crumbs. Work quickly so as not to melt the butter. Make a well in the center and pour in the chilled buttermilk. Stir just until the dough comes together. The dough will be very sticky.
Turn out dough onto lightly floured surface, dust the top with flour and gently fold dough over on itself 5 or 6 times. Press into a 1/2 to 1-inch thick round. The thicker the dough the taller the biscuits. Cut out biscuits with a 2-inch cutter, being sure to push straight down through the dough. Place biscuits on baking sheet so that they just touch. Reform scrap dough, working it as little as possible and continue cutting. (See note 1)
Bake until biscuits are tall and light gold on top, 15 to 20 minutes.
Optionally, you can brush the tops of the biscuits with buttermilk, cream, or melted butter before going into the oven.
---
Notes
Biscuits from the second pass will not be quite as light as those from the first.

Common leavening agents include baking soda and baking powder. Cream of tartar though not directly a leavening agent on its own provides the acid component of baking powder to activate the baking soda contained in baking powder.
Baking powder and baking soda have a shelf life around 18 months, give or take. After which time they lose their effectiveness. Which means that if you use expired baking soda or baking powder it can ruin your product. You can test your baking powder and baking soda, in about 30 seconds, to make certain they are still active.
Baking powder is activated by heat and moisture.To test  baking powder mix 1 teaspoon of baking powder with 1/3 cup hot water. If the baking powder is good, the mixture should produce a lot of bubbles. Be sure to use hot water; cold water doesn't work.
To make your own baking powder combine 2 parts cream of tartar and 1 part baking soda.
Baking soda is activated when it comes into contact with an acidic ingredient. To test baking soda mix a teaspoon of baking soda with a teaspoon of white vinegar. Actually any vinegar will work but white white vinegar is the least expensive. The mixture should bubble vigorously. If you don't see a lot of bubbles, it's time to replace your baking soda. 
Don't mix too much together or you'll have the culinary equivalent of Mt Vesuvius in your kitchen. Remember the volcano experiments from grade school?
Tags: buttermilk biscuits recipe, how to make biscuits, homemade biscuits recipe, easy biscuit recipe
---
---