Chili Con Carne Recipe For A Cold Winter Day
---
---
---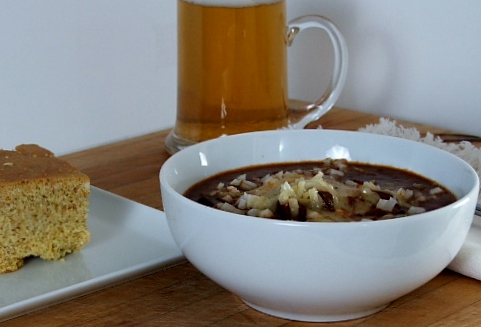 Homemade Chili Con Carne Recipe
---
Black Bean Chili Con Carne Recipe

---
---
chili con carne is one of my favorite comfort food dishes. With the onset of Autumn and the cooler temperatures I start looking forward to it. It warms you up, inside and out, and brings back memories of hot summer days.
Yield: 10 servings
Prep Time: 60 minutes
Total Time: 3 hours

---
Equipment
Blender
Stand Mixer with Grinder Attachment
---
Ingredients
For The Beans

For The Dried Chilies

For The Chili

Organic corn oil for frying
2 pounds chuck roast - cut into 1/2 inch cubes
1 pound chorizo
2 white onions, medium dice
3 cloves garlic, minced
3 anaheim chilies, seeds and pith removed, fine dice
5 poblano chilies, seeds and pith removed, fine dice
3 serrano chilies, seeds and pith removed, fine dice
2 jalapeno chilies, seeds and pith removed, fine dice
2 habanero chilies, seeds and pith removed, fine dice
2 chipotle chilies, minced
2 tbsp paprika
2 tbsp cumin
1 tbsp chili powder
1 teaspoon crushed red pepper
8 plum tomatoes, medium dice
4 tomatillos, medium dice
2 cups tomato puree
12 ounces beer, for deglazing
5 sprigs thyme, stemmed and chopped
5 sprigs oregano, stemmed and chopped
5 sprigs epazote, stemmed and chopped
8 to 10 sprigs cilantro, stemmed and chopped
beef or chicken stock to adjust consistency
Kosher salt, to taste
---
Method
For The Black Beans

Soak beans in enough water to cover by an inch, or so. Change water every 12 hours. Soak for 24 hours.
Drain beans and add to an 8 quart pot. Cover with water, by 2 inches, and bring to a full boil. Season with salt, to taste. Reduce the heat to medium-low and simmer until tender but still a little firm, about an hour. 

For The Dried Chilies

Preheat oven to 225°F (110°C)
Cut chilies open with kitchen shears and remove the stems and seeds. Toast on a sheet pan for 20 minutes in a 225° F (110° C) oven.
Transfer to saucepan and cover with water. Bring to a full boil, remove from heat and let re-hydrate, about 20 to 30 minutes.
In a blender, puree chilies along with some of the water to form a smooth paste. Season to taste with salt. Reserve remaining water.
Heat 8 quart stock pot. Add oil and the cubed beef. Brown all sides of beef cubes. Add the ground beef and the chorizo. Season to taste with salt. Cook to brown, remove the meat to a platter and, set aside.
Add the onion, garlic, and chilies and cook to just caramelize. Add the paprika, cumin, chili powder, crushed red pepper, tomatoes, and the tomatillos. Stir well and cook for 4 to 5 minutes. Deglaze the pot with the beer. Stir well and scrape the bottom of the pan to loosen any browned bits. Add the tomato puree and dried chili puree, adjust seasoning if needed and stir well.
Add the meat back in along with the fresh herbs. Add the black beans, the reserved chili water, and enough stock or water to cover all by an inch. Adjust seasoning as needed. Bring to a boil, reduce heat and simmer until beans are cooked through and the cubed beef is tender, about 1 to 2 hours.
Notes:
To Serve, top chili with sour cream, cheddar or jack cheese, and diced onions, as you like.

Tags: chili con carne recipe
---