New Mexican Red Chili Sauce Recipe
---
---
---
This recipe is a good one to have in your repertoire. It is versatile and very flavorful. It works as a standalone sauce as well as being the sauce for New Mexican enchiladas.
In the fresh state, this chili is similar to, or the same as, what we call a long green chile in the United States, or simply chile verde in Mexico. The deep red-colored dried chile is usually 6 inches long and about an inch wide, tapering to a blunt end.
A puree of New Mexico chiles will be vibrant red with an earthy uncomplicated red-chile flavor and a little tartness. Most of the time the chilies are very mild, though occasionally you come across some that have some heat.
Uses: Crushed for chile flakes, ground into powder, in cooked dishes like enchiladas, and stews and salsas.
---
---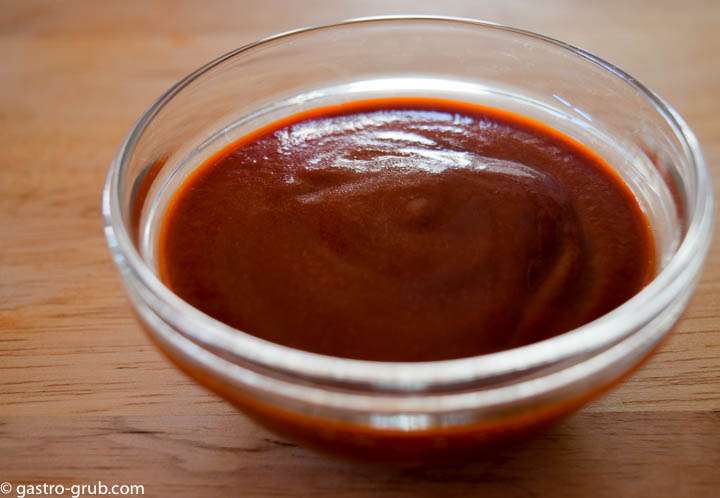 ---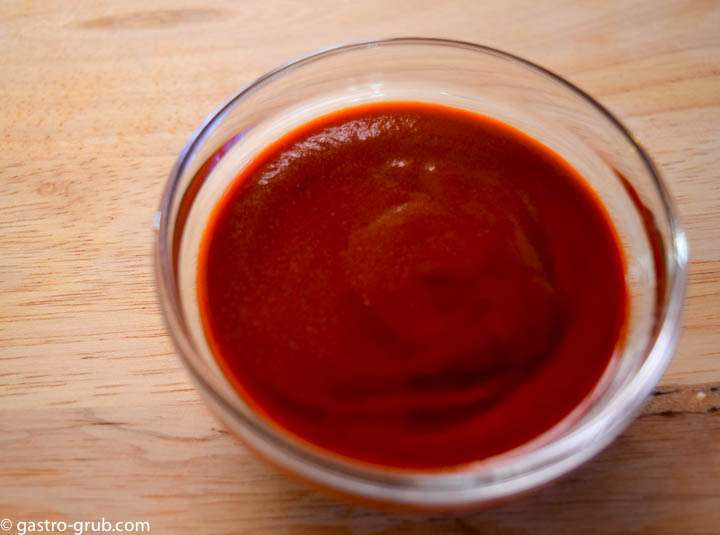 ---
When you finish your sauce should look like it does in these pictures.
---
New Mexican Chili Sauce Recipe
---
Yield: About 2 cups
Prep Time: 30 Minutes
Cook Time: 50 minutes
---
Ingredients
3 ounces / 85 grams New Mexican chili pods, seeded and toasted
2 Tbsp / 30 ml peanut oil, divided
1/4 small onion, sliced
3 cloves garlic, peeled and sliced
4 sprigs oregano, picked
3/4 tsp / ml ground coriander seed, toasted
1/2 tsp / ml ground cumin seed, toasted
Juice of one lime
Kosher salt, to taste
---
Method
Toast chilis in a preheated 250º oven for 5-7 minutes, just until you can smell them. Remove and cool for 5 – 10 minutes.
Transfer the chilies to a pot and cover with water. Bring to a simmer, turn off the heat, and let soak for 20-30 minutes. 
Sauté onions in 1 tbsp of the oil until brown, then add the garlic and sauté for a couple minutes more. Add the oregano, stir, and remove from heat. Allow to cool for 3 – 5 minutes.
Combine the chilies, onion mixture, coriander and cumin into the bowl of a blender. Puree chili and onion mixture in blender till smooth. You will need to use some of the chili water to get a smooth puree. Press through a mesh strainer. 
Place a 4-quart pot over high heat and allow the pot to get smoking hot. Add the remaining oil, and immediately add the chili sauce. Stir until the bubbling subsides. Reduce the heat and simmer for 20 minutes.
---
Notes
Toasting dried chilies brings out the flavor of the chilies. To toast chilies arrange them on a sheet pan, in a single layer, and roast in a low oven until the aroma begins to permeate the room. Make sure to remove the stem and seeds before roasting.
The easiest way to toast ground spices is to add them to a non-stick pan and place it over a medium-low flame. Toast just until the spices become aromatic.
When you are working with chilies it is a good idea to wear gloves. The acid in the chili, capsicum, leaves an oily residue on your fingers and does not wash off. If you've ever worked with chilies and after rubbed your eye you know exactly what I am talking about.
Tags: chili sauce recipe, chili garlic sauce, red chili sauce, chili lime sauce, homemade chili sauce
---
---