Chocolate Pasta
---
---
---

Chocolate pasta is traditionally served with ragu de pollo or chicken ragu, in Tuscany. You won't find it on restaurant menus that cater to tourists. You have to venture out to those hard to find, hole in the wall kind of places.
I learned to make it because the place I worked had it on the menu. It was a restaurant on the property of a winery, in the commune of Gaiole in Chiante.
While I love the pasta with the chicken ragu, it's even better with a simple browned butter and a shaving of Parmigiano. It allows the subtle taste of the cocoa to come through, yet it's still nicely balanced.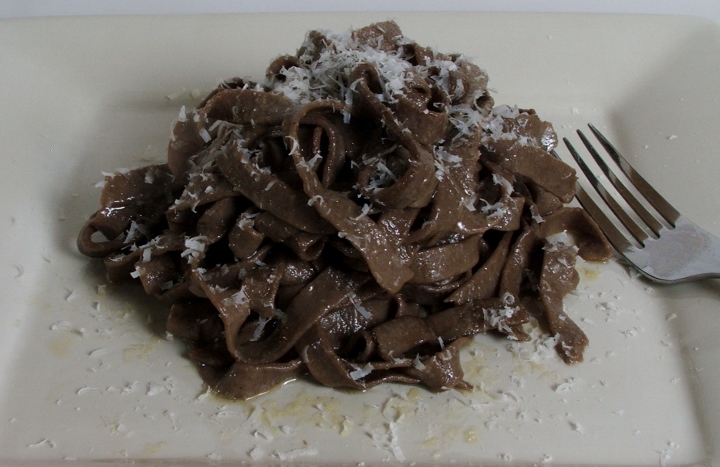 Chocolate Pasta with Browned Butter and Shaved Parmigiano
Chocolate Pasta With Browned Butter
---

Yield: 8 servings
Prep Time: 45 minutes
Cook Time: 10 minutes

---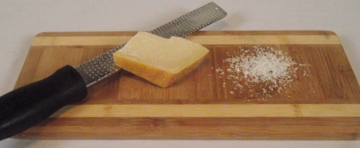 Microplane and shaved Parmigiano-Reggiano

Equipment
Pasta Machine
Large pot or stock pot
Microplane for shaving the cheese
---

Ingredients
For The Chocolate Pasta
For Serving
227 grams / 8 ounces unsalted butter
Kosher salt, to taste
Parmigiano-Reggiano for grating
---

Method
Combine the flours and cocoa in a large mixing bowl. Whisk to thoroughly combine them. Mound the flour on a cutting board or pasta board, making a well in the center.
Combine the yolks and whole eggs into a small mixing bowl and scramble them.
Add the eggs to the well in the flour. Beat gently with a fork while incorporating some of the flour. Keep beating the dough until it comes together into a shaggy mass. Work the dough with your hands kneading until smooth. Wrap in plastic wrap and let it rest for 15 to 20 minutes.

Rolling out the dough

Once the dough has rested, section the dough into four pieces.
Working one section of dough at a time roll through the pasta roller starting with the widest setting and working down to the thinnest. Be certain to keep remaining dough covered with plastic wrap or a damp towel to prevent drying out.
As the dough stretches it is going to get very long and become difficult to work with. For the last two settings cut the dough in half and continue rolling.
After you finish rolling the pasta pass the sheets through the fettuccine cutter. Once they are cut toss them with flour to prevent sticking and lay them out on a sheet pan dusted with flour.
Repeat until all the pasta is cut.

To cook 

Bring a large pot of water to a rapid boil. Salt it liberally, return to a full boil, and add the pasta. Fresh pasta is never cooked al dente, that is only for dried pasta.
When the pasta is fully cooked, strain in a colander. Add the drained pasta back to the pot.
To Serve
While the pasta is cooking, set a 1-quart saucepan over medium-low heat.
Cut the butter into chunks, about a tablespoon each,  and add them to the saucepan.
Once the butter melts

 it will foam up a bit, then subside. Watch carefully as lightly browned specks begin to form at the bottom of the pan. Smell the butter, it should have a nutty aroma.

Immediately, remove from heat and

 toss it with the pasta.

Arrange mounds of pasta on plates and shave Parmigiano-Reggiano over each mound of chocolate pasta.
---

Notes
In Italy I never came across all-purpose flour. They use Typo 00 which is a white flour very similar to our all-purpose flour but it is milled to a finer grind. I never call it out because it is difficult to find unless you have a specialty market in your area. If you can find it, it's a straight substitution, gram for gram or ounce for ounce.
A microplane can't be beat for shaving hard cheeses, zesting citrus, and grating spices, like nutmeg. However, soft or semi-soft cheeses shouldn't be grated with a microplane because the blades are far too fine. Interestingly, microplanes were originally a woodworking tool.
Tags: chocolate pasta
---