Coleslaw Recipes Can Be Traced Back To Roman Times
---
---
---
Coleslaw, often spelled as cole slaw, means literally 'cabbage salad'. Coleslaw recipes can be traced back to Roman times. The earliest descriptions were of a shredded cabbage salad dressed with vinegar, eggs, and spices.
---
---
European settlers brought cabbage seeds with them, and cabbage was a favorite throughout the colonies of North America. Made popular by the Dutch who grew cabbage along the Hudson River. They served it the way they ate it at home, in the Netherlands, as a shredded cabbage salad. This dish became popular throughout the colonies and survives as coleslaw.

Coleslaw recipes that contain mayonnaise coincide with the development of mayonnaise in the 18th century.

Coleslaw salad is made by finely shredding raw cabbage and commonly tossed with a vinaigrette dressing. Prepared this way, coleslaw will keep for about four weeks if it is stored in an airtight container and refrigerated.

---
Variations of Coleslaw Recipes and Cole Slaw Dressing
---
There are a great many variations of the recipe that include other ingredients like red cabbage, peppers, carrots, onions, grated cheese, pineapple, apples, and raisins mixed with dressings like mayonnaise or cream. A variety of seasonings, like cumin, turmeric, or celery seed, may also be added.

Some variation of coleslaw exists in every major food culture there is, including German, Italian, Swedish, Chinese, Japanese, British, and Mexican to name a few. However, the country with the greatest number of coleslaw variations is the United States.

In the United States, coleslaw may be dressed with vinaigrettes, mustard or ketchup based dressings, or cream, sour cream, or buttermilk. Buttermilk coleslaw is most commonly found in the south.

Coleslaw is generally a side dish for Southern cuisine like fried chicken and barbecue and is often accompanied by French fries or potato salad.

Coleslaw is often used as a sandwich ingredient, being placed on barbecue sandwiches, burgers, and hot dogs, as well as being very common on fish tacos.

---
How To Make Cole Slaw
---
This is one of the easiest coleslaw recipes you will ever make. Add the cabbage, salt, pepper, and sugar to a bowl. Pour the vinegar over it and toss lightly. Add the olive oil and toss again.

---
Coleslaw Recipes
---
Yield: About 4 cups
Prep Time: 10 Minutes
---
Ingredients
1/2 head green cabbage, cored
1/4 head purple cabbage, cored
2 teaspoons black pepper
2 teaspoons kosher salt
1/2 cup sugar
1/2 cup red wine vinegar
3/4 cup extra virgin olive oil

---
Method
---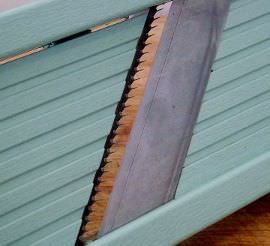 Mandoline with shredder blade attached.
Shred the cabbages by using a knife and making chiffonade cuts, or grating the cabbage using a mandoline with the shredder blade attached.
Combine the cabbage in a large mixing bowl. Add the pepper, salt and sugar. Pour the vinegar over the top to begin dissolving the sugar and salt, toss lightly. Pour the oil over the top and toss vigorously with your hands until the cabbage is thoroughly coated and the sugar and salt have dissolved.
Rest in refrigerator for 30 minutes. Toss again and serve.
---
Notes
How to work with cabbage: start by peeling and removing the outer damaged and discolored leaves. You want to leave only the firm leaves intact. Next, split the head in half and split the halves into halves again, thus quartering the head. Using your knife remove the core from each quarter by slicing it off.
---
---
Variations and directions from the 19th Century:

Cabbage Salad.
2 cups green cabbage, cut into thin strips
2 cups red cabbage, cut into thin strips
1/3 cup wine vinegar
1/4 cup vegetable oil or 1/4 cup melted butter
Salt and freshly ground pepper

Mix the above ingredients well ahead of dinner time so that the flavors can marry."

"Cold slaugh

Select firm, fragile heads of cabbage, (no other sort being for slaugh); having stripped off the outer leaves, cleave the top part of the head into four equal parts, leaving the lower part whole, so that they many note be separated till shaved or cut fine from the stalk. Take a very sharp knife, shave off the cabbage roundwise, cutting it very smoothly and evenly, and at no rate more than a quarter of an inch in width. Put the shavings or slaugh in a deep china dish, pile it high, and make it smooth; mix with enough good vinegar to nearly fill the dish, a sufficient quantity of salt and pepper to season the slaugh; add a spoonful of whole white mustard seeds, and pour it over the slaugh, garnish it round on the edge of the dish with pickled eggs, cut in ringlets. Never put butter on cabbage that is to be eaten cold, as it is by no means pleasant to the taste or sight."

Warm slaugh

Cut them as for cold slaugh; having put in a [skippet enough butter]-[sic] (skippet of butter), salt, pepper, and vinegar to season the slaugh very well, put it into the seasonings; stir it fast, that it all may warm equally, and as soon as it gets hot, serve it in a deep china dish; make it smooth, and disseminate over it hard boiled yolks of eggs, that are minced fine."

---Kentucky Housewife, Lettice Bryan, facsimile reprint 1839 edition stereotyped by Shepard & Stearns:Cincinnati

Skippet - a small, round box for protecting an official or personal seal, as on a document.

Tags: coleslaw recipes, cole slaw recipe, coleslaw salad, how to make coleslaw, cole slaw dressing
---
---