Easy Chocolate Chip Cookies
---
---
---
I love to bake, especially cookies, but my favorite are chocolate chip cookies and peanut butter cookies, and oatmeal cookies, ok I'm a freakin cookie monster, I can't seem to help it. They're just so good.
I like sweets, in general, and I'll eat most any dessert, or for that matter food, but candy, cake, pie, cupcakes none of them hold a candle to cookies, as far as I am concerned.
This is one of the best chocolate chip cookie recipes I've tasted. This recipe will give you a really good chocolate chip cookie. Not only that but it scales remarkably well, I scaled it down from twelve dozen to two dozen.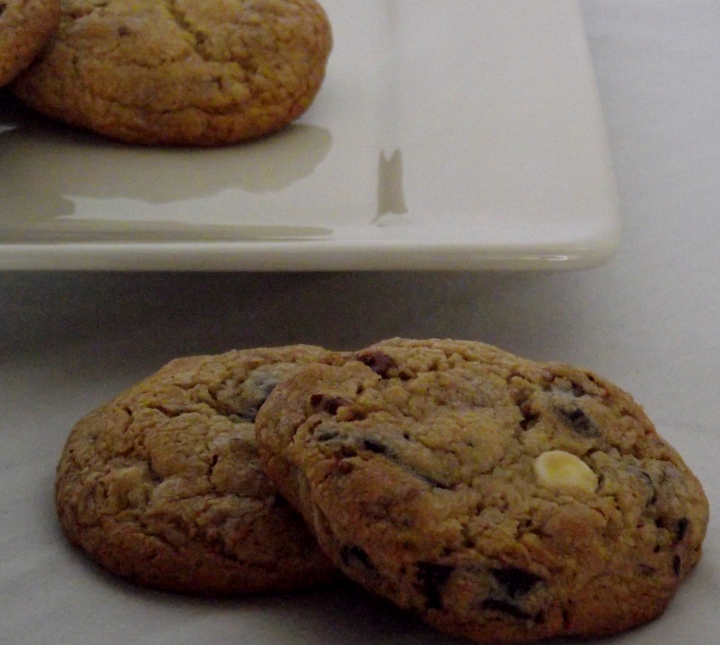 Easy Chocolate Chip Cookies
---
On my measurement page and my kitchen gadgets page I said the most accurate way to cook is to weigh your ingredients. Well another argument for weighing your ingredients is setting up your mise en place. Seriously, you don't think for a second that I get out the measuring cups and a pastry knife and start leveling off flour, do you?
Probably one of the most convenient aspects of weighing ingredients is not having to deal with fats in a measuring cup. What a pain in the bottom.
I prepped all the meez for this recipe in 10 minutes. I put the bowls on the scale and added ingredients until I hit the weight, done.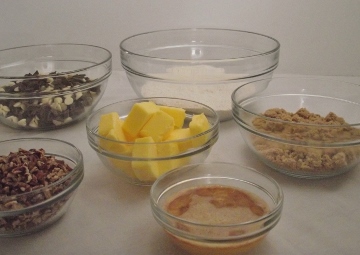 Chocolate Chip Cookie Mise En Place
The flour, salt, and baking soda are combined in a bowl. The brown and white sugars are combined. The eggs and vanilla are combined and the dark and white chocolate chips are combined. Six bowls, 10 minutes, and I am ready to mix.
---
Easy Chocolate Chip Cookies

Yield: 30 cookies
Prep Time: 10 minutes
Cook Time: Varies
---

Equipment
Sheet pans
Parchment paper
Scale
Mixing bowls
Stand mixer
---

Ingredients
250 grams / 9 ounces all-purpose flour
75 grams / 2-1/2 ounces whole wheat flour
7 grams / 1-1/2 teaspoons kosher salt
5 grams / 1 teaspoon baking soda
215 grams / 7-1/2 ounces unsalted butter, room temperature
140 grams / 5 ounces sugar
105 grams / 3-3/4 ounces brown sugar
85 grams /  3 ounces eggs, about 2 large eggs
5 milliliters / 1 teaspoon vanilla
80 grams / 3 ounces white chocolate pieces
245 grams / 8-1/2 ounces dark chocolate pieces, semi-sweet
125 grams / 4-1/2 ounces pecans, toasted and chopped
---

Method
Preheat oven to 375° F / 190° C.
Line sheet pans with parchment paper.
Sift the flour, salt, and baking soda together and set aside.
Add the butter and sugar to the bowl of your stand mixer. Using the paddle attachment, cream the butter and sugars together on medium speed, scraping the bowl periodically, until the mixture is smooth and light in color, about 5 minutes.
Combine the eggs and vanilla. Add to the butter mixture in thirds, ensuring that each addition is thoroughly incorporated before adding the next addition. Scrape down the bowl as needed.
Remove the bowl from the mixer base and add the dry ingredients to the liquid ingredients. Stir to just incorporate and return the bowl to the mixer base. Set the mixer to low and mix until thoroughly blended. Add the chocolate and nuts and mix until just blended.
Scoop the dough into 43 gram / 1-1/2 ounce balls. Place 6 cookies on the parchment lined pans and bake at 375/190 until the edges are golden brown, about 11 to 13 minutes. Cool completely on the pans.
---

Notes
Alternatively, you can form the dough into logs and wrap them in film. Then refrigerate the dough until it is firm enough to slice. Then proceed as above.
Variations and substitutions:
You can easily omit the whole wheat flour and substitute all-purpose flour.
You can substitute walnuts for the pecans.
You can substitute most any chocolate, for example use all milk chocolate.
For Chocolate Cherry Chunk Cookies add 160 grams chopped dried cherries along with the chocolate in step 6.
For White Chocolate Macadamia Cookies substitute all white chocolate for the chocolate, and macadamias for the pecans.
Tags: easy chocolate chip cookies, best chocolate chip cookie recipe

---