Quick And Easy Chocolate Cookies
---
---
---
I came up with this chocolate cookie recipe, made this way, because we were watching a movie and I wanted a cookie. I did not want to drag out the Kitchen Aid, bowls for mise en place, measuring cups or my scale. So, I thought, if I mix everything in the food processor then the only dirty dishes are the bowl of the processor, a 1/4 cup measuring cup, and a sheet-pan.

I began thinking about how to do cookies based on using one stick of butter. Mostly because I didn't want to measure out any butter, I just wanted to unwrap a stick of butter and go.

These are incredibly fast to make and very good. They have a tender cake like interior and they're soft and chewy with a lot of chocolate flavor.
---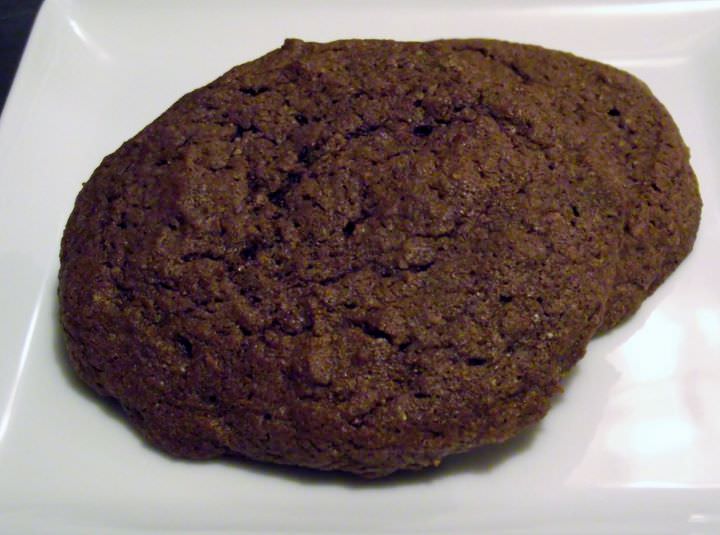 Easy chocolate cookies made in a food processor fast, simple, and delicious.
Chocolate cookies are a wonderful thing. They really hit all of those comfort food cravings that we have for dessert. They are chocolaty, sweet, and savory and the cinnamon in them gives them a subtle sharp note that just makes you smile inside and out.

---
Quick, easy, and so yummy.
---
Quick And Easy Chocolate Cookies
---
Yield: 8 cookies
Prep Time: 10 minutes
Cook Time: 10 minutes
---
Ingredients
1 stick unsalted butter, cut into 12 pieces
1/4 cup white sugar
1/4 cup brown sugar
1 egg
1/2 teaspoon vanilla
1 cup whole wheat flour
1/4 cup cocoa
1/4 cup oats
1 teaspoon baking soda
1 teaspoon cinnamon
1/4 teaspoon salt
---
Method
Preheat oven to 350°.
Combine butter and sugar in the bowl of a food processor. Process until the sugar is dissolved. Add the egg and vanilla and process until it becomes a smooth batter.
Combine the flour, cocoa, oats, baking soda, cinnamon, and salt in a bowl and whisk to combine. When the sugar mixture has become smooth and creamy add the dry ingredients. Process until it forms a dough.
Using a tablespoon form into 8 equal sized balls. Place on parchment lined sheet-pans, with 2-inches of space between the cookies.
Bake in a 350° oven for 10 minutes. When cookies are done remove from oven and allow to cool for 1 to 2-minutes on the baking sheet before transferring them to a wire rack to cool completely.
---
Notes
Toasted walnuts and chocolate chips would be wonderful additions to this recipe, if you have them.
Tags: easy chocolate cookies, chocolate cookie recipe, chocolate cookies

---
---