Authentic Italian Marinara Sauce
---
---
---
The first time I made marinara, authentic Italian marinara sauce at any rate, was right after I finished culinary school. I was working in the restaurant in Italy. One day the chef asked me to make marinara for family meal.
I minced up a garlic clove and a little onion and threw them in a pot with some olive oil. I caramelized the onion and garlic to a nice golden hue. The chef's wife walked by and looked in the pot and said, "That's burned." I said it's not burned it's caramelized. Then she asked what it was for and I said, It's for the marinara. She looked at me and said, "This is Italy, not America, when you make marinara it has tomatoes, basil, salt, and olive oil and that's it. Then she went on to say, Once in awhile if the tomatoes are a little bit acidic you can put a pinch of sugar.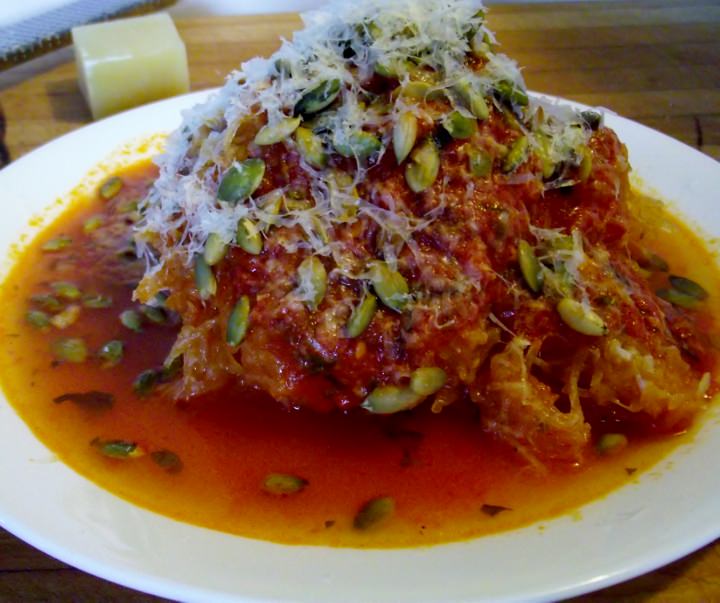 Spaghetti Squash With Authentic Italian Marinara Sauce
About cans! While I am a huge advocate of cooking everything from scratch there are a few exceptions that I make, San Marzano tomatoes being one. There just isn't a better tasting tomato with the perfect balance of acidity, sweetness and tang like San Marzanos.
Point in fact, when I lived in Italy every restaurant as well as everyone's house I visited all used San Marzano tomatoes out of the can. The only exception was when the San Marzanos were in season.  By the way the recipe below for the marinara is the same recipe we used in the restaurants I worked in, in Italy.
---
Spaghetti Squash With Marinara
---
Split the squash in half and scrape out the seeds. You can save the seeds and make "pumpkin" seeds later, if you wish.
---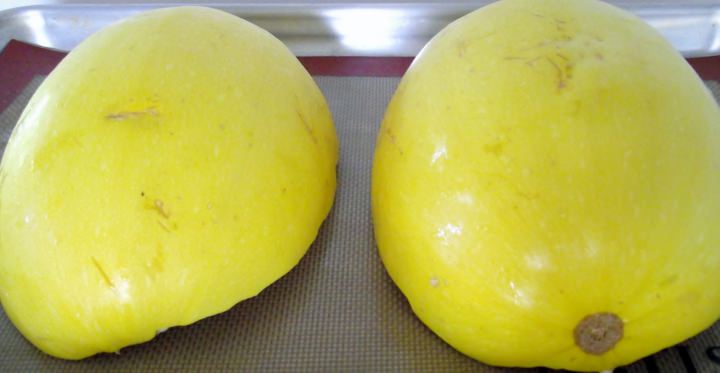 Place the squash halves cut side down on a sheet pan lined with a silicone baking mat. Parchment works fine, as well.
---
Ingredients for authentic Italian marinara sauce, San Marzano tomatoes, extra virgin olive oil, kosher salt, and sweet basil.
---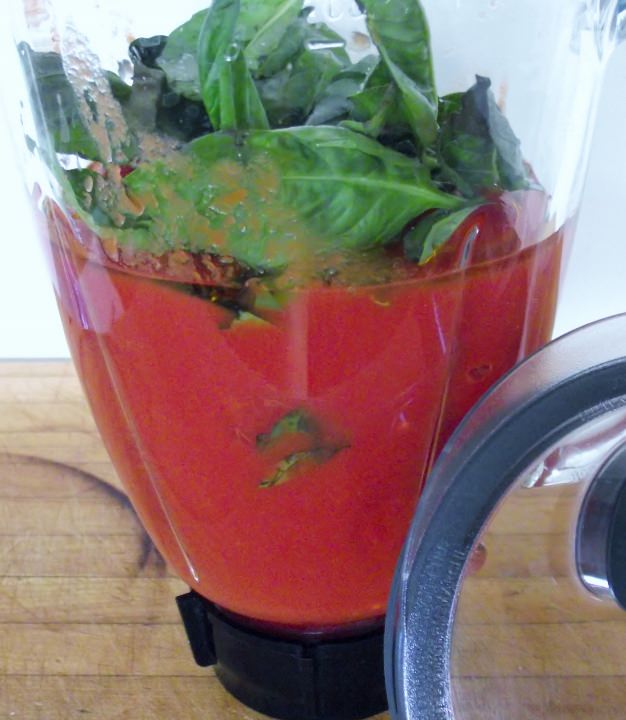 Puree the tomatoes, olive oil, kosher salt, and sweet basil.
---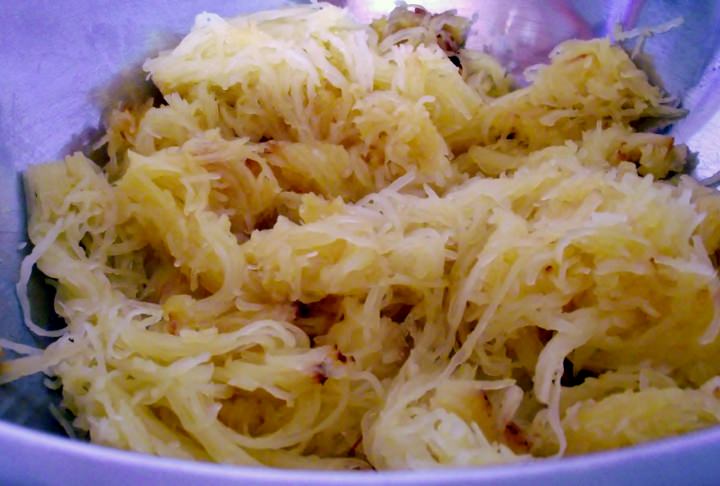 Spaghetti squash after it has been removed from its shell.
---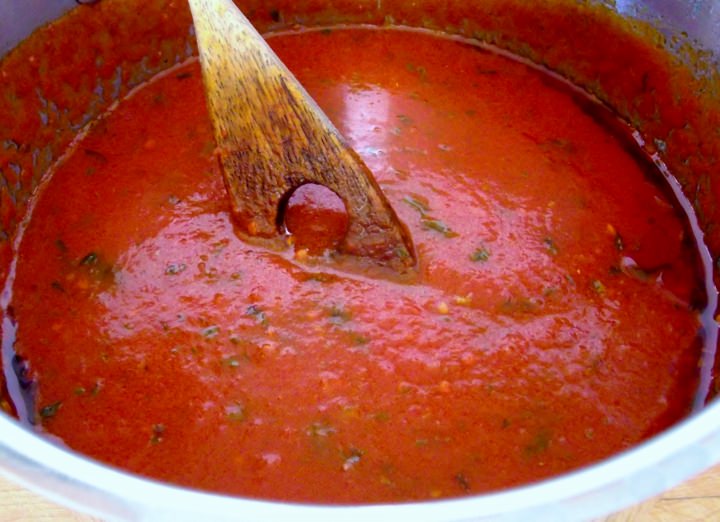 Authentic Italian marinara sauce.
---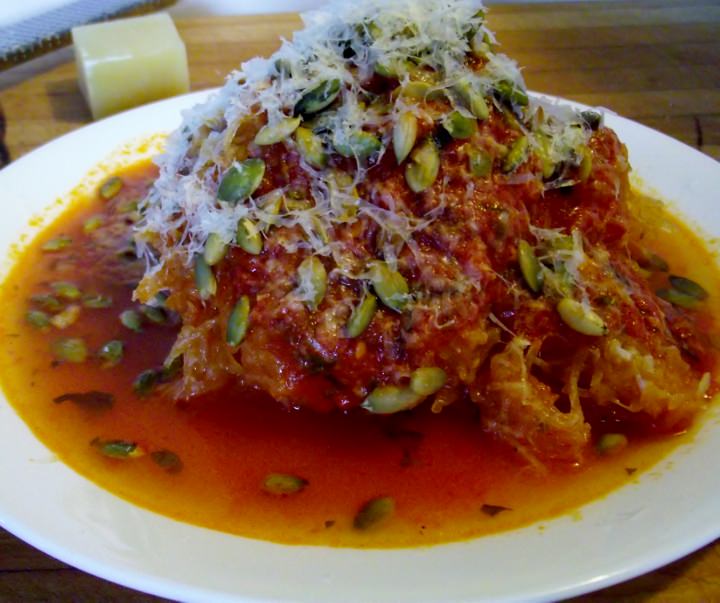 Spaghetti Squash with marinara, toasted pumpkin seeds, and shaved Parmigiano-Reggiano.
---
Spaghetti Squash Recipe With Italian Marinara Sauce
---
I've said it before but it bears repeating. Simple recipes like marinara rely on the quality of the ingredients. If you use a lesser product there isn't anything there to cover the flavor and it is going to be apparent. Take a look at my BBQ sauce recipe. If you were to use less than stellar chipotle peppers, well there are enough other ingredients that the average palate isn't really going to pick up on that. The sugar alone will hide a lot of it. But you use Hunt's tomatoes in this recipe and your sauce will be out of balance and you'll be trying to fix it and wondering what went wrong.

---
Yield: 2 servings
Prep Time: 15 minutes
Cook Time: about 1 hour
---
Ingredients
For The Squash
1 spaghetti squash, halved and seeds removed
For The Marinara
28 ounce can organic San Marzano tomatoes, pureed
Small handful fresh basil leaves
1 to 2 teaspoons / 5 to 10 grams kosher salt, or to taste
2 tablespoons / 30 milliliters extra virgin olive oil
To Serve
1 ounce/ 28 grams / about 1/4 cup pumpkin seeds, toasted
Shaved Parmigiano-Reggiano, to taste - optional
---
Method

Preheat oven to 350° F / 175° C.
Sprinkle a little water over a parchment lined sheet pan and place the squash cut side down. Bake in a 350° F / 175° C, oven until a paring knife can be inserted through the skin with little resistance.
Meanwhile combine the tomatoes, basil leaves, salt, and olive oil in the bowl of a blender. Pulse a few times on high until you have a puree. Transfer to a 3-quart sauce pan and heat over low heat, until it comes to a simmer, stirring occasionally.
Allow the squash to cool until you can handle it. Using a fork scrape the squash out of the shell. Toss the squash with the some of the marinara to just coat it. Plate the squash and ladle more marinara on top. Sprinkle with some of the pumpkin seeds and serve. Optionally grate a little Parmigiano-Reggiano over the top before serving.
---
Notes
If you omit the cheese this is a very nice vegan dish. As I made it, it is a yummy vegetarian dish.
When you plate the squash is going to weep. If you want to avoid that or eliminate that after you scrape out the squash place it in a medium mesh strainer and let it hang out over the sink for a bit. You will need to press it a little bit to push out some of the moisture. 
---
---