List Of Vegetables And Fruit In Season
---
---
---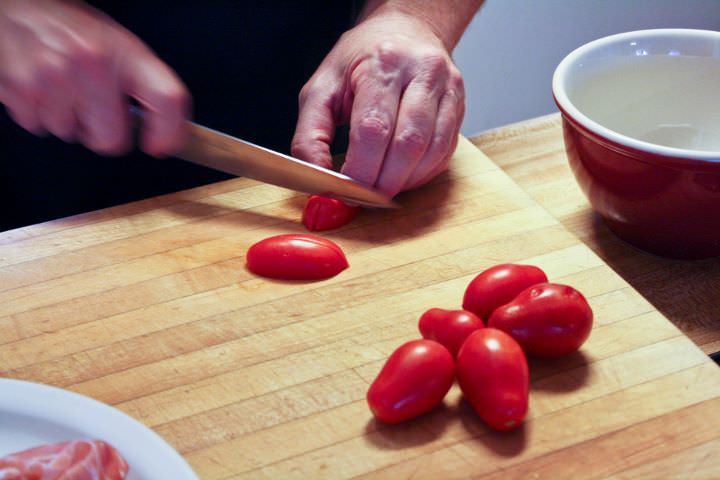 Homegrown Roma Tomatoes
Seasonality Matters
---
In our modern fast paced lives, with an uber-supermarket standing, like a beacon to capitalism, on every street corner in every suburb in the country it's tempting to look past seasonality. Buying tomatoes in January or squash in July, but those tomatoes or that squash, having been shipped from the other side of the planet, are going to be woody, watery, flavorless and unripe and the flesh is going to be off color.

Even when ingredients are local to a region that is no guarantee that a particular ingredient is going to be available to you. In other words, you're still not likely to walk into that uber-supermarket and find pigs feet, or hanger steak or any other ingredient that doesn't market well in your region.

By eating within the season, that is, choosing to buy and cook those things that are in season you develop a natural harmony with the environment around you and you develop a natural biological rhythm. You're doing what your body adapted to over the millions of years of evolution. In addition, by eating with the seasons you naturally have a balanced diet, that delivers a full range of nutrients. Rather than say, eating corn all year long and then wondering why you don't feel so good.
Does that mean you should never eat out of season? Not necessarily, I really do believe that moderation is key. If you really want asparagus in December buy them. Just try and make eating seasonally the norm, and eating out of season the occasional indulgence. 
Do I eat out of season? Sure I do, sometimes. I buy frozen berries all year long, even in the summer when they are in season. But I am using them for their health benefits, not their flavor, which isn't affected by seasonality. I put them in smoothies. Even when they're in season I'm not going to pay 3.00 dollars for a basket of blueberries when I can buy a bag of frozen organic blueberries that is twice the weight of the basket for about 2.50. Especially, since all I am going to do is blend them with some almond milk, yogurt, honey, and oats.
On the other hand If I am planning to make blueberry tarts in June, you can bet that I am going to buy the best fresh organic blueberries I can find, and I don't make blueberry tarts in December.
Below is a list of vegetables and fruits organized by their season.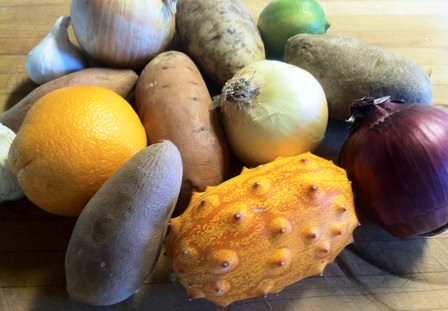 Spring Produce
---
List Of Vegetables In Season
---
Spring

Summer

Fall

Winter

artichokes
asparagus
beets
Belgian endive
bell peppers
cabbage
carrots
cauliflower
endive
English peas
garlic
ginger
green beans
jicama
lettuce
mushrooms
onions
parsnips
potatoes
prunes
radicchio
radishes
ramps
rhubarb
shallots
snow peas
spinach
squash
sugar snap peas
sweet potatoes
turnips
watercress



arugula
bell peppers
chilies
corn
cucumbers
eggplant
garlic
ginger
green beans
hass avocados
kohlrabi
mushrooms
okra
onions
potatoes
radishes
shallots
spinach
squash
sugar snap peas
tomatoes
zucchini



artichokes
beets
Belgian endive
bell peppers
bok choy
broccoli
broccoli rabe
brussels sprouts
cabbage
carrots
cauliflower
chilies
eggplant
endive
Jerusalem artichokes
jicama
kale
kohlrabi
leeks
mushrooms
onions
parsnips
potatoes
pumpkins
rutabagas
shallots
squash
sweet potatoes
swiss chard
turnips
watercress



beets

carrots
parsnips
potatoes
radishes
ramps
rutabagas
shallots
sweet potatoes
turnips
Belgian endive

bok choy
broccoli
broccoli rabe
brussels sprouts
cabbage
cauliflower
celery
endive
fuertes avocados
garlic
ginger
Jerusalem artichokes
jicama
kale
leeks
onions
pumpkins
radicchio
snow peas
spinach
squash
watercress
---
---
List Of Fruits In Season
---
Spring

Summer

Fall

Winter

banana
blood oranges
blueberries
dates
grapefruit
grapes
kiwi
kumquats
lemons
limes
mandarin orange
mangoes
navel orange
papayas
pears
raisins
strawberries

apricots
banana
black currants
blackberries
blueberries
cherries
dates
figs
limes
mangoes
melons
nectarines
papayas
peaches
pears
pineapples
plums
raspberries
strawberries
Valencia oranges
watermelon

apples
banana
blueberries
cranberries
dates
figs
grapes
lemons
mandarin orange
navel orange
pears
persimmons
plums
pomegranates
prunes
quinces
raisins
raspberries

apples

cranberries



dates
grapefruit
grapes
kumquats
lemons
mandarin oranges

pears




prunes



quinces
raisins
List Of Vegetables In Season
---
Spring

Summer

Spring
artichokes
asparagus
beets
Belgian endive
bell peppers
cabbage
carrots
cauliflower
endive
English peas
garlic
ginger
green beans
jicama
lettuce
mushrooms
onions
parsnips
potatoes
prunes
radicchio
radishes
ramps
rhubarb
shallots
snow peas
spinach
squash
sugar snap peas
sweet potatoes
turnips
watercress

arugula
bell peppers
chilies
corn
cucumbers
eggplant
garlic
ginger
green beans
hass avocados
kohlrabi
mushrooms
okra
onions
potatoes
radishes
shallots
spinach
squash
sugar snap peas
tomatoes
zucchini

Fall

Winter

artichokes
beets
Belgian endive
bell peppers
bok choy
broccoli
broccoli rabe
brussels sprouts
cabbage
carrots
cauliflower
chilies
eggplant
endive
Jerusalem artichokes
jicama
kale
kohlrabi
leeks
mushrooms
onions
parsnips
potatoes
pumpkins
rutabagas
shallots
squash
sweet potatoes
swiss chard
turnips
watercress

beets
carrots
parsnips
potatoes
radishes
ramps
rutabagas
shallots
sweet potatoes
turnips
Belgian endive
bok choy
broccoli
broccoli rabe
brussels sprouts
cabbage
cauliflower
celery
endive
fuertes avocados
garlic
ginger
Jerusalem artichokes
jicama
kale
leeks
onions
pumpkins
radicchio
snow peas
spinach
squash
watercress
List Of Fruits In Season
Spring

Summer

banana
blood oranges
blueberries
dates
grapefruit
grapes
kiwi
kumquats
lemons
limes
mandarin orange
mangoes
navel orange
papayas
pears
raisins
strawberries

apricots
banana
black currants
blackberries
blueberries
cherries
dates
figs
limes
mangoes
melons
nectarines
papayas
peaches
pears
pineapples
plums
raspberries
strawberries
Valencia oranges
watermelon

Fall

Winter

apples
banana
blueberries
cranberries
dates
figs
grapes
lemons
mandarin orange
navel orange
pears
persimmons
plums
pomegranates
prunes
quinces
raisins
raspberries







apples
blood oranges
cranberries
dates
grapefruit
grapes
kumquats
lemons
mandarin oranges
navel oranges
pears
pomegranates
prunes
quinces
raisins
---