New York Cheesecake Recipe From Scratch
---
---
---
This New York cheesecake recipe is very near and dear to my heart. It was the first recipe I asked my grandmother to teach me to make.
As my 10th birthday was drawing near my grandma asked me what kind of cake I wanted. I said I didn't know. She asked me if I ever tasted a cheesecake. Seriously, I immediately put one of those looks of vile and disgust on my face, like every 10 year old does, usually when they hear the words "liver for dinner".
---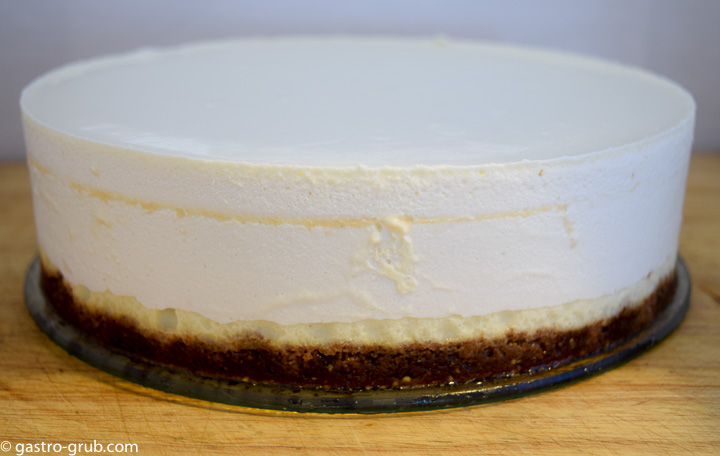 Grandma's New York Style Cheesecake
---
My grandma said, let me make you a cheesecake, they're delicious. If you don't like it I'll make you a different cake. I figured I had nothing to lose so I said, ok.

From that year on it was cheesecake for my birthday, that's 46 years of cheesecake for my birthday.
A couple years later I asked my grandma to teach me how to make this cheesecake. I've been making them ever since.
---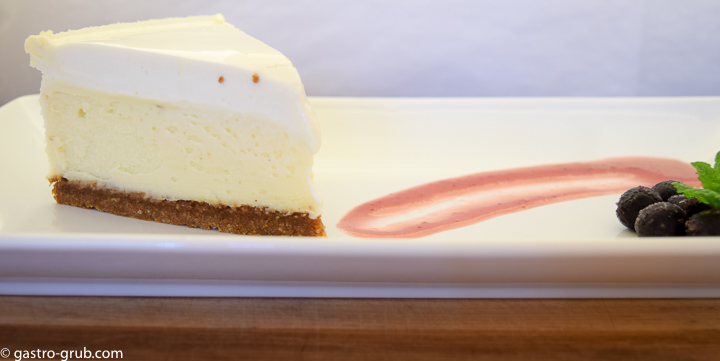 Cheesecake - Yum!
---
My Grandmother's New York Cheesecake Recipe
---
When I asked my grandma where she got the recipe, this is the story she told me:

In 1954 my grandmother was friends with two brothers from New York. They moved to Southern California and opened a restaurant in Duarte, CA called the Zanzibar.

The restaurant was famous for its New York cheesecake recipe. People would come from all over to eat the cheesecake. Actors and actresses from that era would frequent the place just for the cheesecake.
Now, my grandmother was an amazingly talented cook as well as a successful restaurant and motel owner. She and my grandfather owned a restaurant, bar, and campground in the San Gabriel Mountains.
One afternoon she was having lunch at the Zanzibar and after lunch she decided to ask Red if she could have the recipe for the cheesecake. He told her, "Helen, I can't – we're known for our cheesecake and I can't give out the recipe." She said she understood, thanked him anyway, and ordered a piece to go.
She went home and started making cheesecakes and tasting them side by side. A few days later she went back to the Zanzibar and told Red that she had a surprise for him. She opened the box and cut a piece of the cheesecake for him to taste. Red immediately assumed his brother must have given her the recipe and marched back into the kitchen and the two brothers got into a fight over it.
She broke up the fight and explained what she had done. They all had a good laugh and Red told her she wasn't allowed to order anything to go any more. 
This recipe is what she came up with - and has been in my family ever since. Now it's yours.
---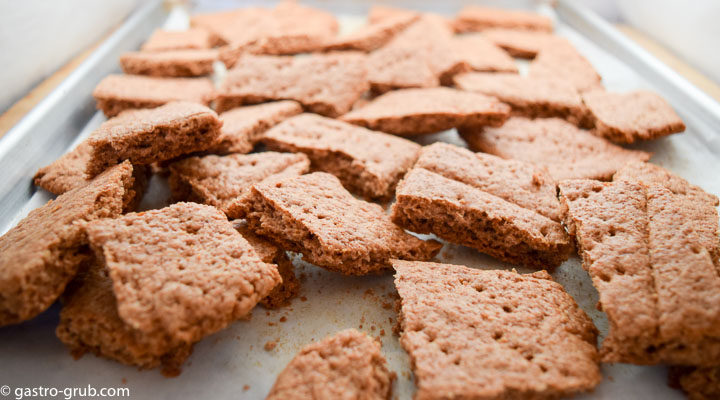 Homemade graham crackers for cheesecake crust.
---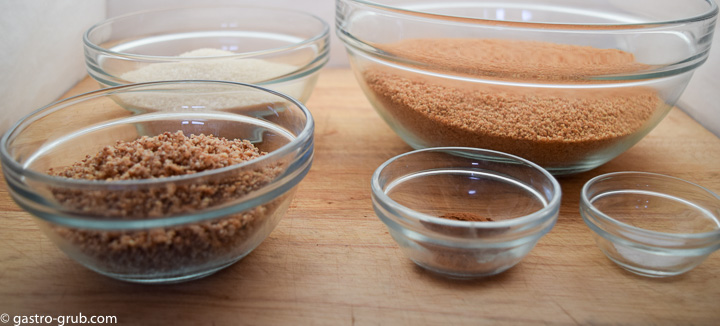 Ingredients for graham cracker crust: chopped almonds, graham cracker crumbs, sugar, cinnamon, and salt.
---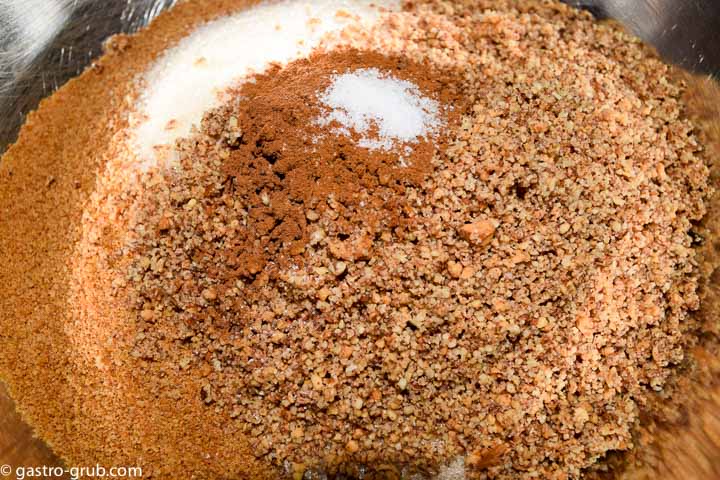 Combine dry ingredient for the crust and mix well with a whisk. Alternatively, you can mix them together in your food processor.
---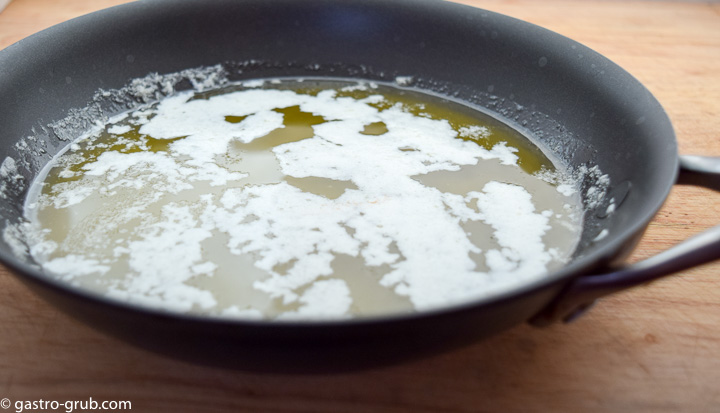 Melt the butter for the crust and add to the crumb mixture. Mix well to evenly distribute the butter and coat the crumbs.
---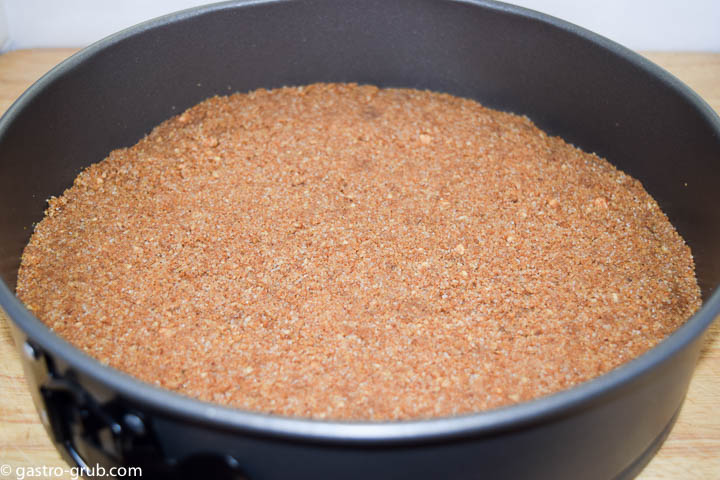 Press the crust into the bottom of a springform pan.
---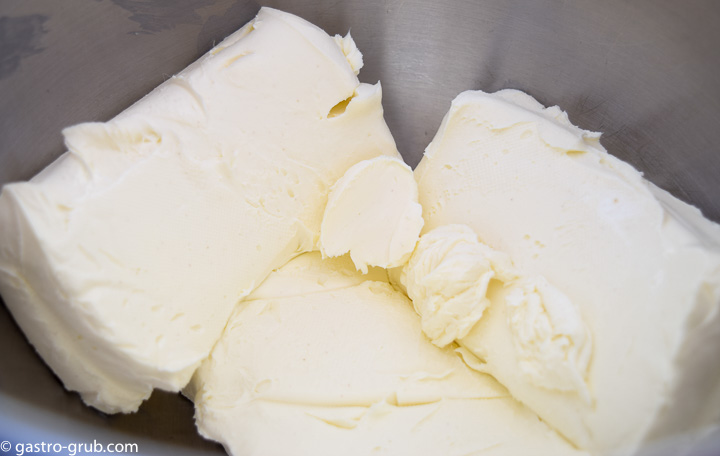 When I make a cheesecake I add my cream cheeese to my mixing bowl, cover it with film, and let it rest on the counter overnight.
---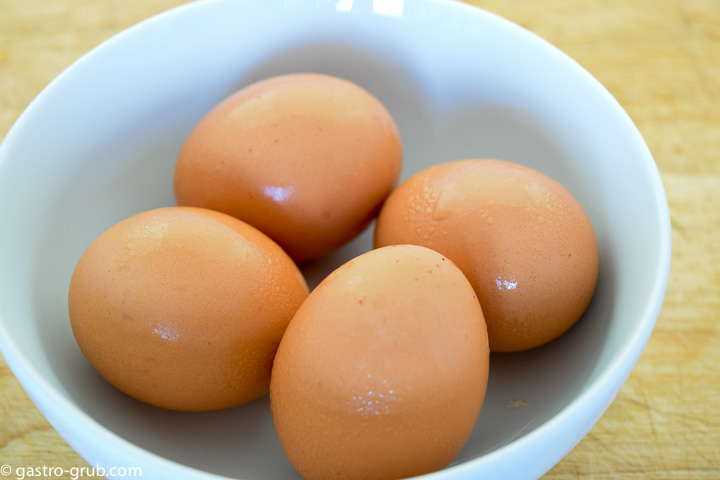 I also let my eggs rest on the counter for about an hour, to take the chill off.
---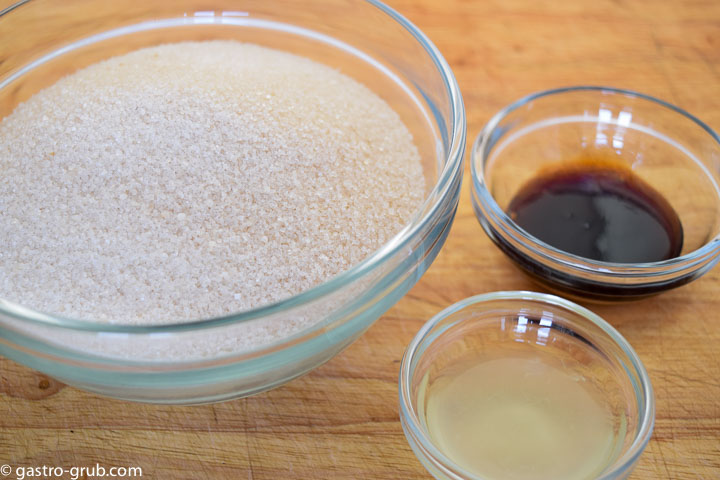 Sugar, lemon juice, and vanilla complete the filling.
---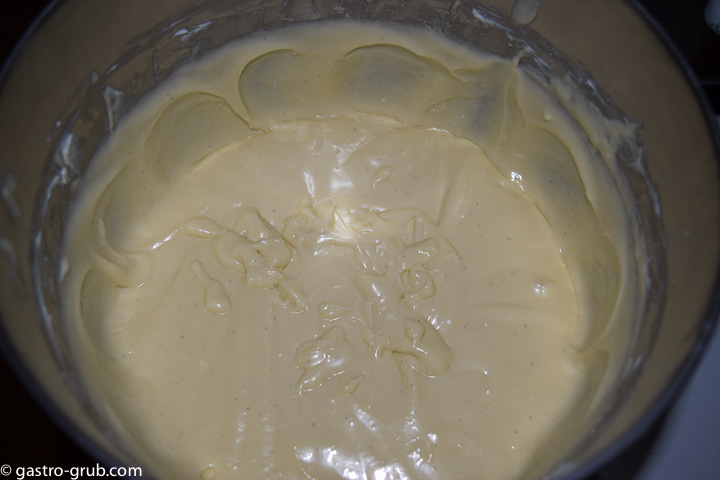 While you are mixing the filling make certain to periodically scrape the mixer bowl with a rubber spatula to thoroughly incorporate the cream cheese.
---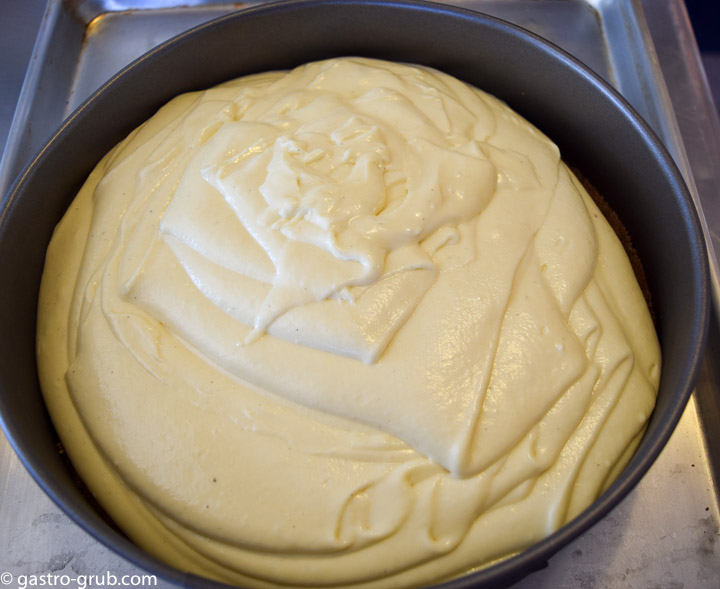 Pour the filling on top of the crust in the springform pan. Tap and jiggle the pan to help evenly spread the filling. Line the springform pan with a sheet pan and place into the preheated 250º oven.
---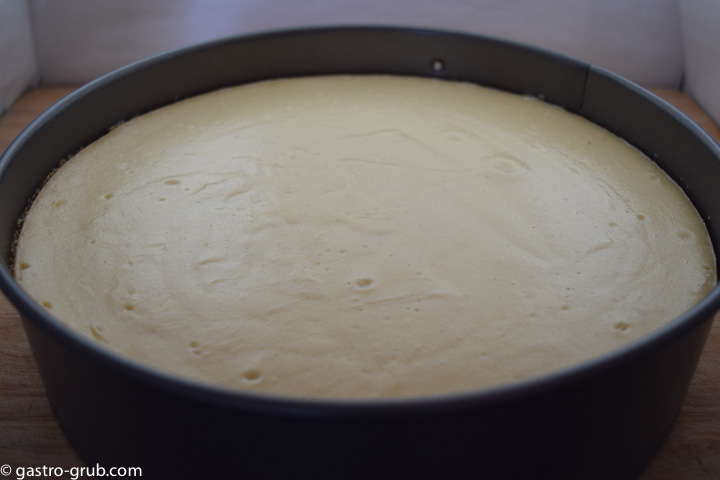 Cheesecake right out of the oven and before the top layer is added.
---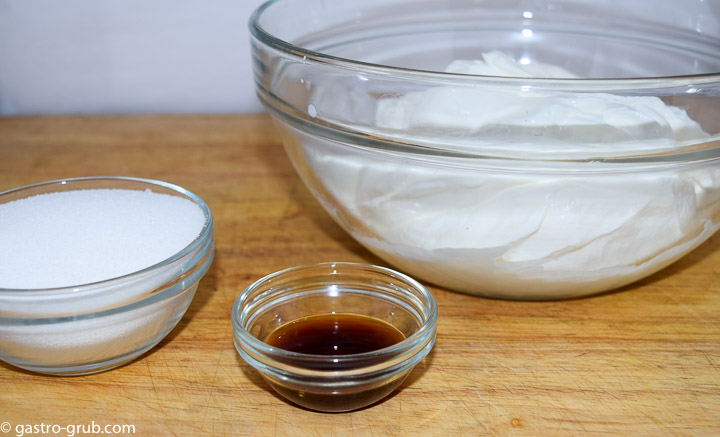 Ingredients for cheesecake topping: sour cream, sugar, and vanilla.
---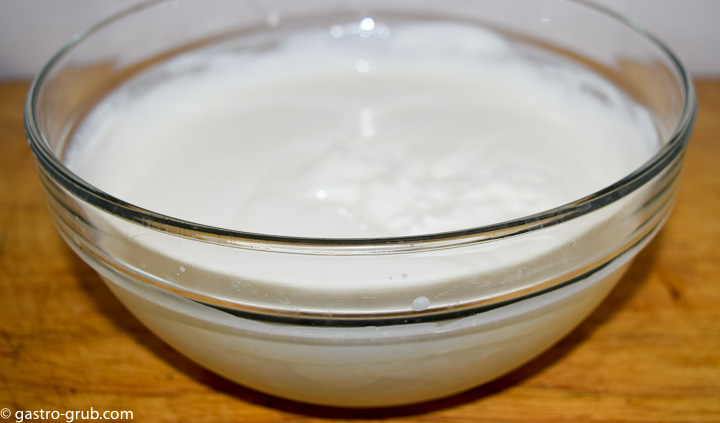 Combine the sour cream, sugar and vanilla and whisk to thoroughly mix together making certain that the sugar dissolves. Pour the sour cream mixture over the cold cheesecake and return to a 350º oven for 15 minutes.
---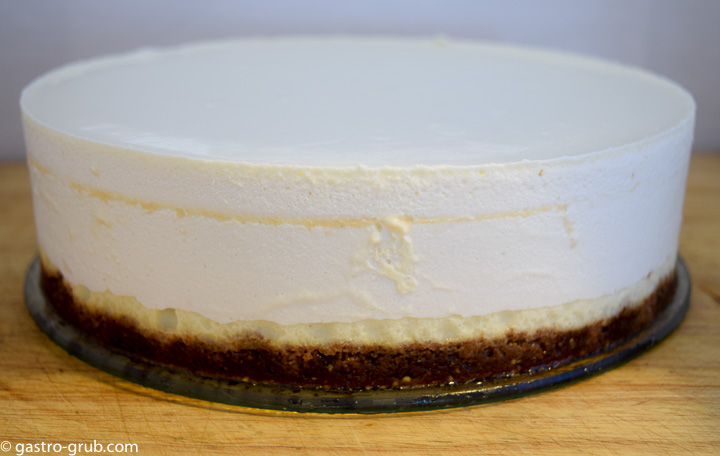 That is one beautiful cheesecake.
After baking the filling, as the cake cools, it is going to shrink slightly. When this happens the cake pulls back from the edges of the pan. When you add the sour cream layer on top, the mixture runs down the sides of the cake and fills the space between the edge of the pan and the edge of the cake.
---
Grandma's New York Cheesecake Recipe
---
Yield: one 9 to 10-inch cake
Prep Time: 1 hour
Cook Time: 2 hours - see notes
Set Time: 5 hours
Oven: 250°
---
Equipment
9 to 10-inch springform pan
---
Ingredients

For The Crust

56 grams / 2 ounces toasted pecans or almonds - chopped
225 grams / 8 ounces graham crackers - see recipe
145 grams /  2/3 cup sugar
3 grams / 1 teaspoon cinnamon
Pinch salt
113 grams / 1 stick unsalted butter, melted
For The Filling

675 grams / 24 oz cream cheese - softened - I leave it out overnight - see notes
315 grams / 1-1/2 cups sugar
4 large eggs
20 milliliters / 1 tbsp plus 1 tsp lemon juice
15 milliliters / 1 tbsp vanilla
For The Topping

Preheat oven to 350°
680 grams / 24 ounces / 3 cups sour cream
125 grams / 1/2 cup sugar
15 milliliters / 1 tbsp vanilla
---
Method

For The Crust

In a food processor pulse the nuts until finely chopped.
Roughly break grahams and add to food processor. Process on high until you achieve a medium crumb.
Add sugar and cinnamon and process until you get a medium to fine crumb.
Transfer crumb mix to a large bowl and add melted butter while mixing until well combined.
Press crumb mix into bottom of springform pan so that the crust is about a half inch thick. Set aside.
For The Filling

Preheat the oven to 250º F / 120º C.
In mixer combine cream cheese and sugar and mix at low speed until well combined, remembering to scrape the sides and bottom periodically.
Add eggs, one at a time ensuring each egg is fully incorporated before adding the next.
Add lemon and vanilla and mix well.
Pour mixture into crust and smooth top by lightly tapping the pan. This will help to remove any air bubbles that may exist.
Put  the springform pan on a baking sheet and place in oven. Bake for 1 hour and 20 minutes.
Check the cake at this time by opening the oven door and slightly moving the baking sheet. It should be setting on the outside edges while the center is still fluid. 
Close the oven door and turn off the oven.
Let the cake finish cooking in the oven with the heat off. Cook another 1 hour and 20 minutes. (This is that wall example) 
Remove and place on wire rack to cool for 1 hour then place in refrigerator. Let chill for 4 to 5 hours. Now crust and cake are set and cold.
For The Topping

Preheat oven to 350º F / 175º C.
Combine all ingredients in a medium mixing bowl and whisk until the sugar is dissolved.
Pour over cold cake and place in oven.
Bake for 15 minutes and remove. 
Place cake in refrigerator and let stand until the top layer is set and thoroughly chilled, about 2 to 3 hours.
---
Notes

The cook time for cheesecake is going to vary depending on the pan size and the baking temperature. The deeper the pan the longer it takes. The lower the temperature the longer it takes. For this recipe I made two cheesecakes one using a 2-1/2 x 10 inch pan and a 9 x 3 inch silicon pan with a glass base. 
When you are working with cream cheese it is important to make certain the cheese is soft before starting. If the cheese is too firm it will not blend well and you will end up with small lumps of cream cheese in your batter.
Sour cream will curdle if it gets too hot, that is if it reaches boiling temperature. 
The recipe's ingredient list is exactly as my grandma gave it to me. However, the instructions are slightly different, notably the baking temperature. Cheesecake is challenging because it lives in the world of cakes as well as the world of custards. When you bake a custard the best results are achieved by going low and slow. The reason for this is that custards have a thermal set point. How you reach that set point matters. Think of it like driving your car toward a solid brick wall. You get in your car and start driving toward the wall at 5 miles per hour. At 50 feet away you put on the brakes. Stopping before you hit the wall is no problem. Now Imagine you do the same thing but this time you are traveling at 120 miles per hour. By the time you hit the brakes you've hit the wall. It is the same principle with cheesecake. If you use high temperatures to bake them, they're going to reach the thermal set point so fast that by the time you remove them they're overcooked. 
When cheesecake is overcooked the top cracks and the outside edge develops a rubbery texture.
---
The reason I made two cheesecakes to create this recipe is that the first one flopped. What happened was that instead of using sour cream for the first one I used heavy cream thickened with lemon juice.
When the cake came out of the oven after the final baking I refrigerated it until the top layer was set. When I went to un-pan it, I opened the ring and the edges of the sour cream layer was too soft. It, literally, ran down the side of the cake and onto the countertop.
Several years ago a customer asked me to come out to his table. When I got there he looked at me and said, he wished that he could cook as well as I do. I said, when you've made as many mistakes as I have you'll be able to.
Don't ever believe that professional cooks and chefs don't make mistakes, believe me we make plenty.
Tags: new york cheesecake recipe, easy cheesecake recipes, best cheesecake recipe, baked cheesecake recipe
---
---