Pan Seared Scallops
---
---
---
The scallop is a mollusk related to clams , mussels, and oysters. There are several varieties of scallops, but the most popular, and the varieties that most people in the US are familiar with, are bay scallops and deep sea scallops. It is the adductor muscle, which hinges the two shells, that is most commonly sold and consumed.
There is another variety that is gaining popularity, the pink scallop. It comes in an array of colors and has a wonderful flavor. Excerpt from the NY Times, "Pink scallops have a more complex flavor than sea scallops, are less aggressively sweet and they are balanced by a pleasant, oyster-like brininess as well as a nutty flavor usually associated with clams..." The full article is in the NY Times Archive.
Pan seared scallops is the most popular method of preparation. Because scallops only require 1 to 3 minutes of cooking per side it is the easiest way to ensure they are not overcooked.
---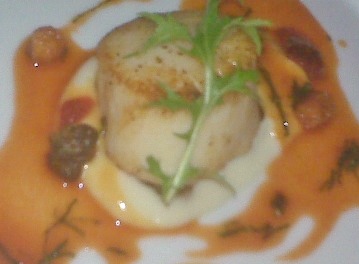 ---
---
Pan Seared Scallops In A Citrus Thyme Gastrique

---
Yield: 3 servings
Prep Time: 10 minutes
Cook Time: 30 minutes

---
---
Ingredients
For The Gastrique
1 cup / 250 ml fresh squeezed orange juice
1/4 cup / 50 ml dry white wine
5 sprigs thyme, plus more for garnish
1/2 cup / 115 grams sugar
1/2 tsp / 2 grams Kosher salt, or to taste
For The Scallops
1 Tbsp / 15 ml canola oil, divided
9 scallops, cleaned - see notes
Kosher salt, to taste
Fresh cracked pepper to taste

---
---
Method
Preheat oven to 225° F (110° C)
For The Gastrique
Add the orange juice and wine to a 1 quart / 1 liter sauce pan and bring to a boil over high heat.
Add 5-thyme sprigs, the sugar and the salt and return to a boil, stirring to dissolve the sugar and salt. Reduce heat to medium-high and allow the gastrique to reduce to a syrup consistency, about 15-minutes.
Remove from heat and set aside, allowing the thyme to steep for another 20 minutes. Pass the sauce through a fine mesh strainer, set aside and keep warm.
For Pan Seared Scallops
Set a saute pan over medium-high heat. When the pan is hot add 1 teaspoon / 5 milliliters of the oil and swirl it in the pan to coat the bottom.
Add 3 scallops to the pan and sear until just caramelized, turn over and cook the other side, about 1 1/2 minutes per side.
Remove from pan and blot on paper towels. Transfer to a small sheet pan or oven safe dish and let rest in a warm oven.
Wipe out the saute pan with paper towels and repeat, working in batches until all the scallops are cooked. 
To Serve
Remove scallops from oven, and season lightly with salt and pepper.
Spoon about a tablespoon of the sauce onto 3 small plates, making a pool in the center of the plate.
Arrange 3-scallops on top of the sauce.
Place a thyme sprig on top, and serve.
---
---
Notes
Buying scallops: look for scallops that are a uniform opaque-white color with firm, slightly moist flesh. Smell them if you can, fresh seafood either smells slightly of the sea or has no obvious smell at all.
To clean scallops just remove the small outer muscle along the edge. They may not all have one, but if they do remove it by pulling it off, gently.
To get a really good sear on the scallops blot them with paper towels to remove moisture before they go into the pan. This prevents steaming and allows for a better sear.
Nice substitutions or additions to the plate include raisins, pine nuts, and arugula.
---
---