Homemade Pesto Pasta Recipe
---
---
---
Pesto has become one of the more popular sauces. So much so, that now there are all manner of "things" being labelled pesto. Traditionally pesto is made with fresh sweet basil from Genoa. However, so long as you are using fresh sweet basil you can make an excellent pesto anywhere. 

---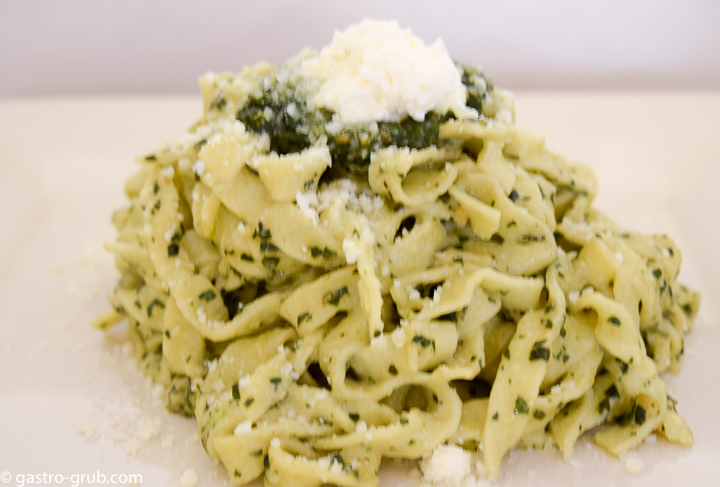 Handmade Fettuccine, Pesto Gonovese, And Fresh Ricotta
---
Linguistically speaking the word pesto comes from the Italian verb pestare which means to pound or grind in a mortar, and traditional Genoese pesto is made with a mortar and pestle, that being said, you can make an excellent pesto with your food processor. However, even if are using a food processor you will get a better result if you stir in the cheeses and butter by hand.
---
Pesto Pasta Recipe
---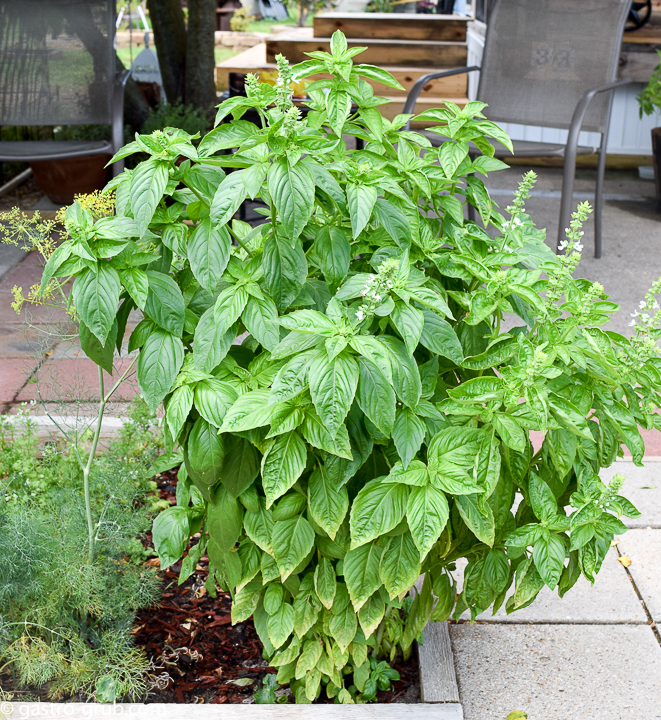 I chose to do pesto because my basil plants are out of control, as you can see.
---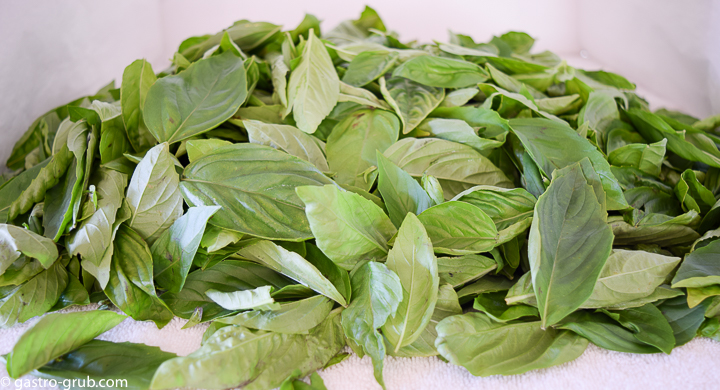 The first step is to wash and pick the leaves. Take it from experience it is far faster and easier to wash the whole stem, dry them and then pick the leaves, rather than picking the leaves and then washing.
---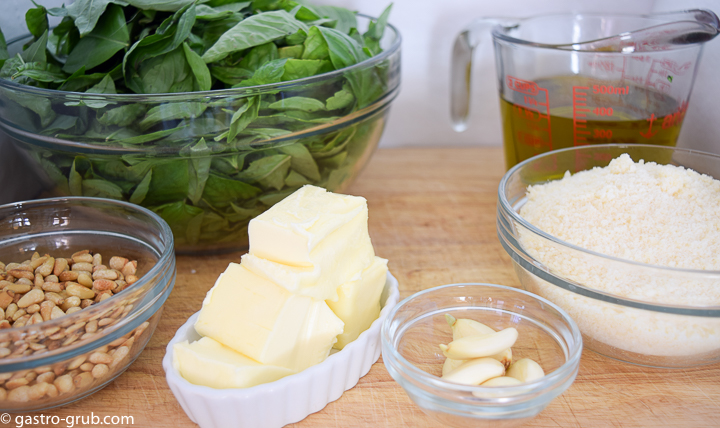 Ingredients for pesto: sweet basil, extra virgin olive oil, pine nuts, parmigiano-reggiano and pecorino romano, garlic, and butter.
---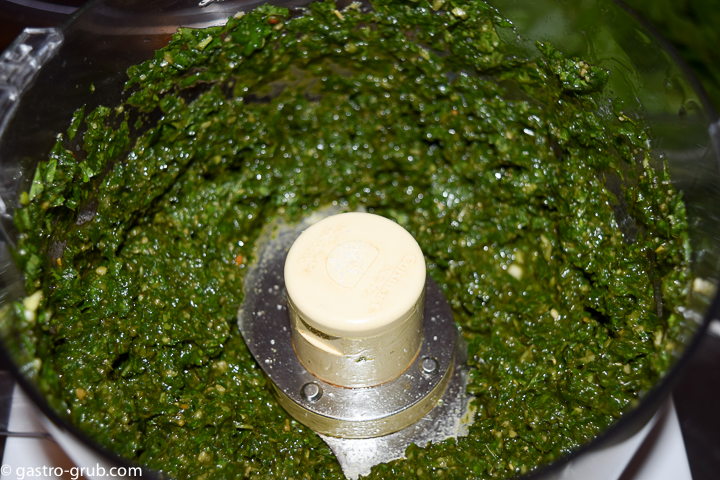 The basil, olive oil, garlic, pine nuts, and salt. Next, stir in the butter and cheese.
---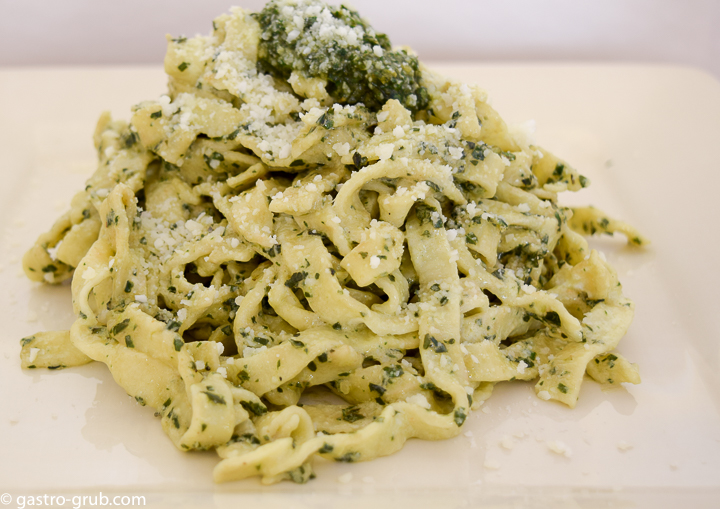 Pesto pasta or pasta al pesto.
---
Pesto Pasta Recipe With Homemade Pesto, Pasta, And Ricotta.
---
Yield 6 servings
Prep Time: 15 minutes
---
Ingredients
For The Food Processor

110 grams / 2 cups tightly packed fresh basil leaves
120 milliliters / 1/2 cup extra virgin olive oil
28 grams / 1 ounce / 3 tablespoons pine nuts, toasted
2 garlic cloves, minced
Kosher salt, to taste
For Completion By Hand
60 grams / 1/2 cup freshly grated parmigiano-reggiano cheese
15 grams / 2 tablespoons freshly grated pecorino-romano cheese
42 grams / 3 tablespoons unsalted butter, room temperature
To Serve

---
Method

Wash the basil in cold water and gently pat dry with paper towels.
Put the basil, olive oil, pine nuts, chopped garlic, and a healthy pinch of salt into the bowl of your food processor, and process to a uniform creamy consistency.
Transfer to a bowl and mix in both of the grated cheeses using a wooden spoon.
Once the cheese is evenly amalgamated into the sauce, mix in the softened butter.
To serve, add 1 to 2 tablespoons of the hot pasta water to the pesto and mix well, then spoon it over the pasta.
Pesto With Ricotta - homemade ricotta recipe
Ricotta brings a wonderful creaminess and lightness to pesto. To make pesto with ricotta reduce the butter in the recipe to two tablespoons and add 3 tablespoons ricotta. Mix in the ricotta when you mix in the butter.
Serve in exactly the same manner, adding a small amount of hot pasta water to the sauce before spooning it over the pasta.
---
Notes
If you want to make the pesto ahead and freeze it, stop at the end of step 2. Transfer to an airtight container and place in the freezer. Add the cheese and butter when the pesto is thawed, just before using.
Adding the cheeses and butter by hand produces a better textured sauce compared to adding the cheeses and butter into the food processor.
The pecorino cheese that is used in Genoa is called fiore sardo. The flavor is much softer that pecorino-romano. However, I have never seen fiore sardo available anywhere outside of Italy.
In Genoa they serve pesto with a pasta called trenette. It is virtually identical to fettuccine.
Tags: pesto pasta recipe, basil pesto recipe, pesto sauce ingredients, how to make pesto, pesto genovese
---
---