Sicilian Anise Sesame Seed Cookies
---
---
---
Anise sesame seed cookies were a staple during the holidays, along with biscotti and other Italian sweets. They are a great tasting cookie and as you'll discover they are essentially a soft cooked version of biscotti.
---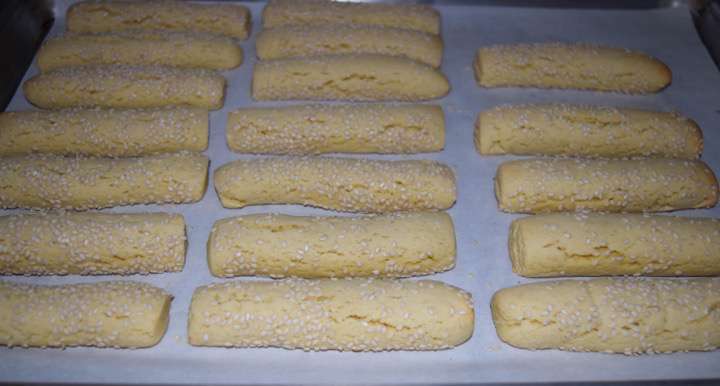 If you stop and think about biscotti and anise sesame cookies for a moment you'll find that they are essentially pasta doughs that were converted to a cookie. Some fat was added and some flavorings and sugar but they are basically flour and egg which is pasta.

---
Sicilian Sesame Cookies
---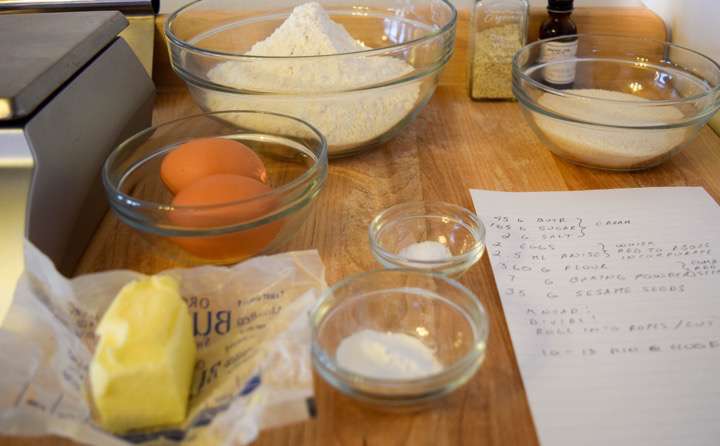 Ingredients for sesame cookies: flour, butter, sugar, salt, baking powder, eggs,sesame seeds, and anise oil.
---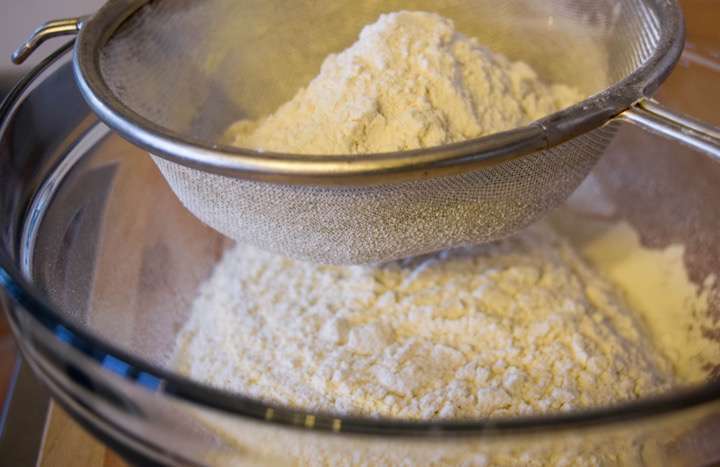 Sifting the flour and baking powder together.
Note, most recipes call for sifting the salt with the dry ingredients. However, I use kosher salt and the granules are too large to pass through the mesh strainer. Thus, by adding the salt to the butter mixture it ensures it gets equally distributed, and the water from the egg whites ensures it gets dissolved.
---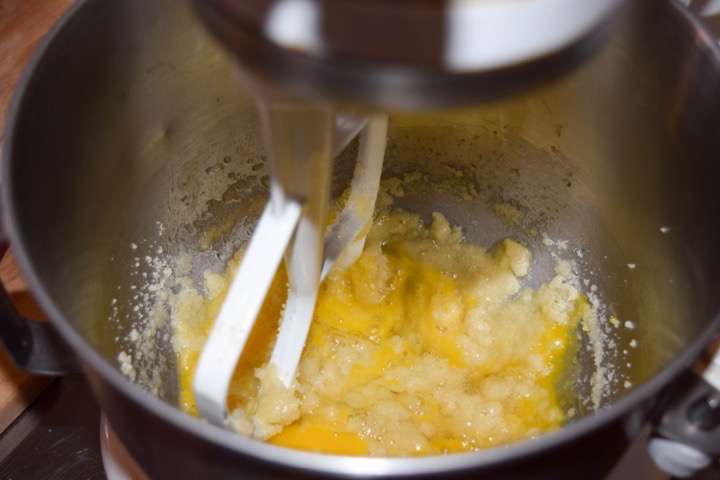 I have creamed the butter, sugar, and salt. Then I added the eggs. Mix until a smooth batter forms. Add the flour mixture and mix until it comes together.
---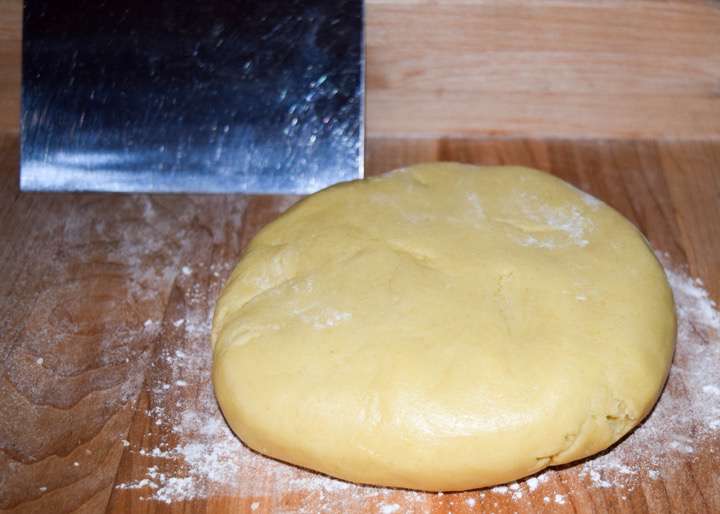 Turn out the dough and work into a smooth disc.
---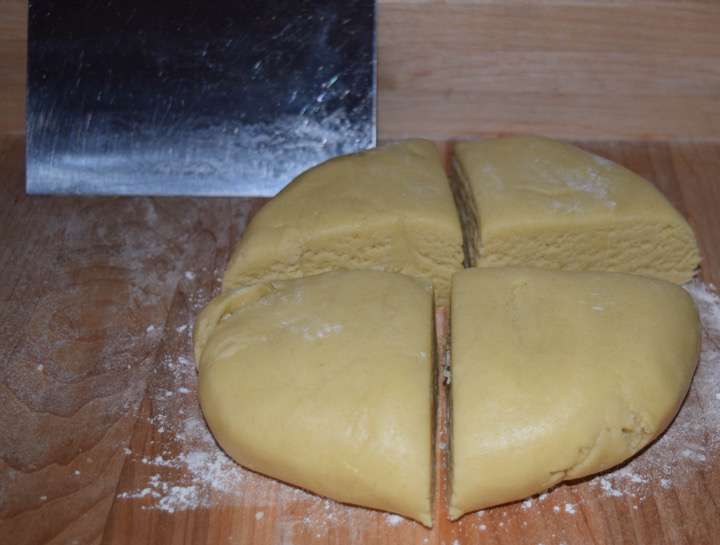 Divide the dough into 4 pieces.
---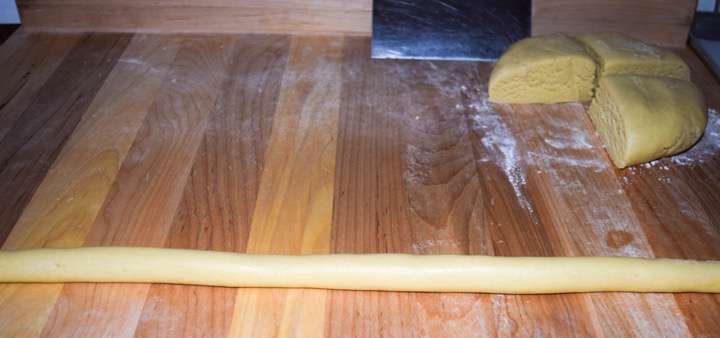 Working one piece at a time roll the dough into long thin ropes, about half an inch thick.
---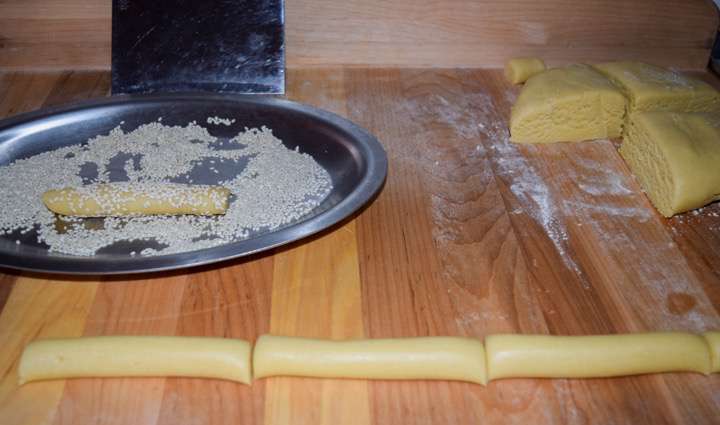 Cut the ropes into equal length pieces and roll each piece in sesame seeds.
---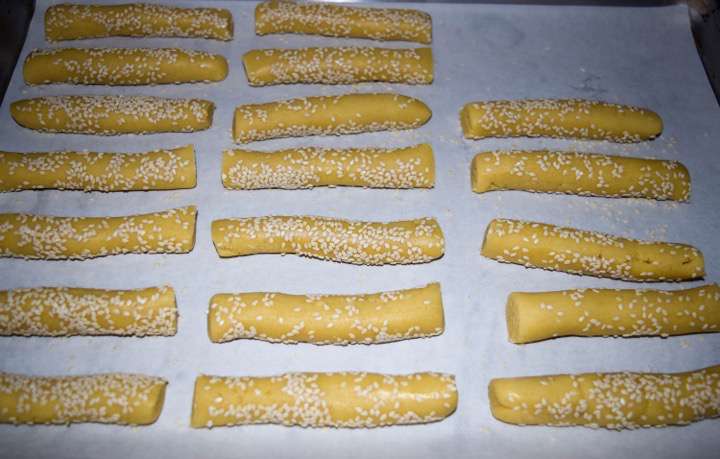 Arrange the cookies on a parchment lined sheet pan.
---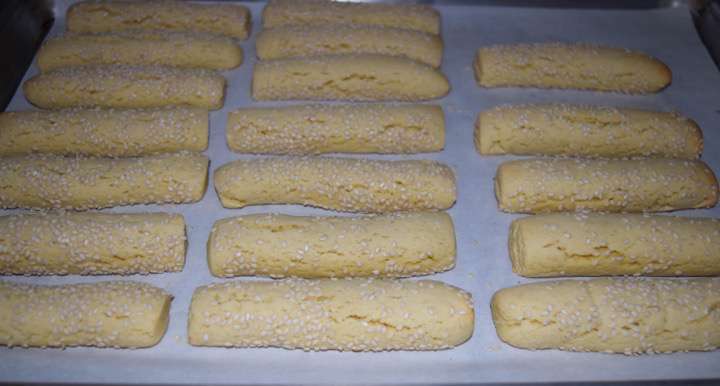 Bake at 400º F for 13 minutes.
---
Sesame Seed Cookies
---
Yield: approximately 2 dozen
Prep Time: 20 minutes
Cook Time: 10 - 13 minutes
Oven: 400º F / 205º C
---
Ingredients
Volume
3 Tbsp butter, room temp
3/4 cup sugar
1/4 tsp salt 
2 eggs
1/4 to 1/2 tsp anise oil
2-1/2 cups AP flour
1-3/4 tsp baking powder
2 to 3 Tbsp (1.25 ounces) sesame seeds
Grams
45 grams butter, room temp
165 grams sugar
2 grams salt 
2 eggs
1 to 2 grams anise oil, (1.25 - 2.5 ml) - see notes
360 grams AP flour
7 grams baking powder
35 grams sesame seeds
---
Method

Preheat oven to 400º F / 205º C.
Cream the butter, sugar, and salt together in the bowl of your stand mixer, on medium speed, until the sugar is dissolved. Add the eggs and anise oil and mix until the mixture is light and pale. 
Meanwhile sift the flour and baking powder together in a medium mixing bowl. Whisk to thoroughly combine. Set aside.
When the egg mixture is ready add the flour and baking powder to the egg mixture. Stir to lightly incorporate and then mix on low speed until the dough comes together in a uniform ball.
Transfer to a work surface and knead slightly until you have a smooth ball. Flatten into a 2-inch thick disc.
Using a pastry knife separate the dough into 4 equal pieces. Working one piece at a time lay it out and work it into a rope, by rolling it back and forth until it is about the thickness of your little finger. Cut the rope into sections, again about finger length. 1/2 inch wide by 3 inches long or 1 cm wide by 7.5 cm long.
Spread the sesame seeds out on a small flat surface, a pie pan works great, and roll each cookie in sesame seeds. Transfer the cookie to a parchment lined sheet pan, leaving about 1/2 inch, 1 cm between each cookie. 
Continue until all the dough is used up. Bake in a 400º F / 205º C oven, until done. About 13 minutes but check after 10 minutes.
---
Notes
The measurement for the anise oil varies because anise oil tends to be strong and people definitely have different reactions to it. Personally, I love it and when I make these cookies for myself I use the larger amount. When I make these cookies for others I use the smaller amount. It really is just preference, but I recommend making them the first time with the smaller amount and then adjusting the amount to your personal preference after.
Tags: sesame seed cookies, sicilian sesame cookies, sesame cookie, italian sesame seed cookie recipe
---
---