Italian Sausage Stuffed Butternut Squash Recipe
---
---
---
Squash are native to the Western Hemisphere. It is believed that they originated in northern Argentina near the Andes, or in specific Andean valleys. At the time of the Spanish conquest they were found growing in such areas and has never since been found elsewhere, apart from being transported by people.
In grocery stores we typically see two groups of squash. Summer squash like zucchini or yellow squash and winter squash like butternut or acorn squash.

---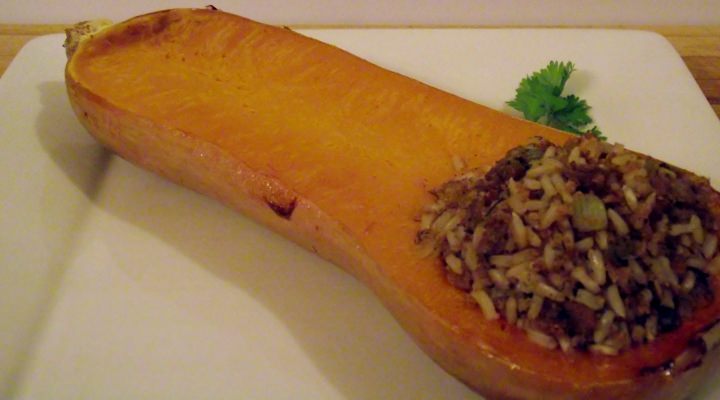 My savory stuffed butternut squash recipe featuring homemade Italian sausage, brown rice, and fennel.
---
I love to stuff food. Whether it's squash, eggplant, onions, pork, chicken, or beef makes no difference to me, I just really love stuffed food. It is amazing to me that simply by adding a few very common ingredients to a very simple food, turns it into an elegant and very satisfying meal.
This stuffed butternut squash recipe is a great example. I used six rather common ingredients and created a delicious meal in a shell. There's Italian sausage, onions, celery, fennel, rice, and butternut squash. Those are the principal players that really contribute to the overall flavor of the dish. Obviously the rest of the ingredients also contribute but those six ingredients really drive the direction of the plate.
---
Italian Sausage Fennel And Brown Rice Stuffed Butternut Squash Recipe
---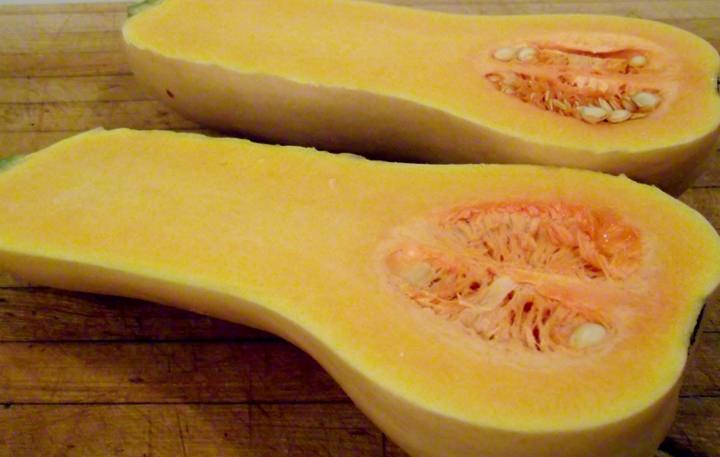 Halve the squash.
---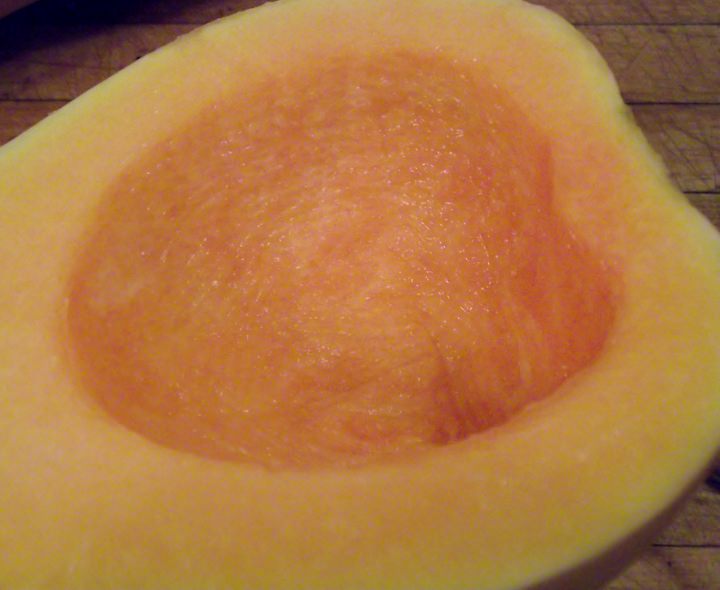 Clean out the seeds and stringy membrane.
---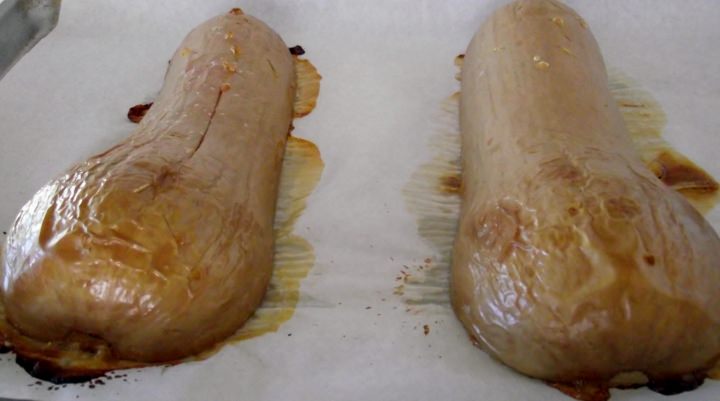 Remove from oven and allow to cool, until you can handle them comfortably.
---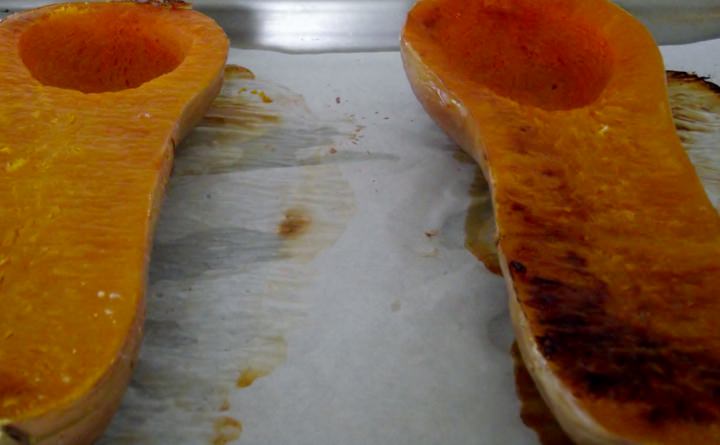 Turn the squash over and allow to continue cooling.
---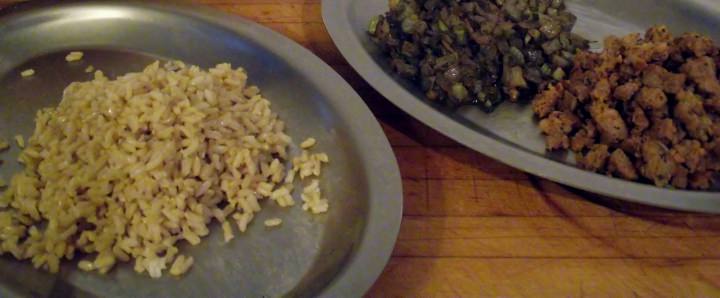 Stuffing ingredients: brown rice, Italian sausage, and sauteed onion, fennel and celery.
---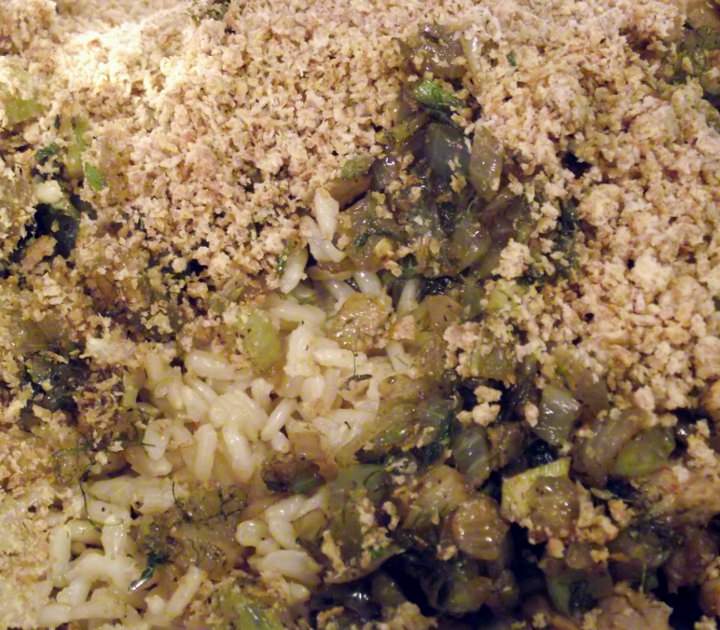 Combine the stuffing ingredients and mix well.
---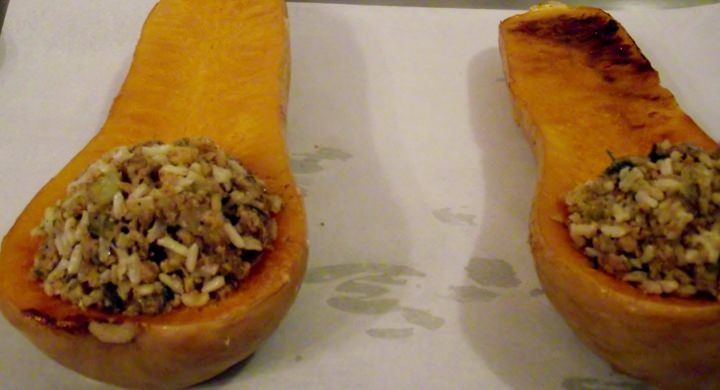 Butternut squash stuffed with Italian sausage and brown rice, ready to go back into the oven.
---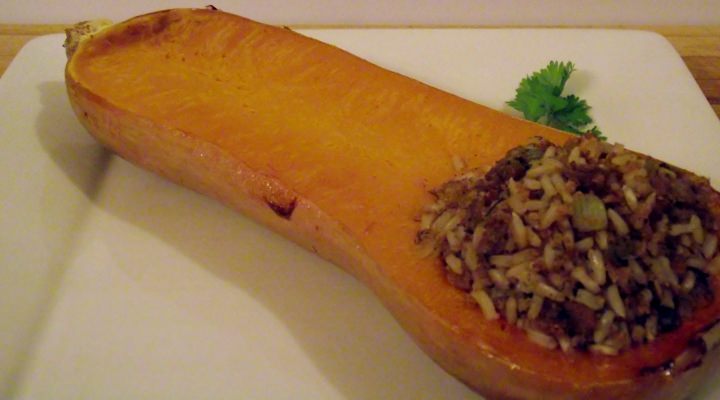 My stuffed butternut squash recipe.
---
Savory Stuffed Butternut Squash Recipe
---
Yield: 4 servings
Prep Time: 60 minutes
Cook Time 1 hour and 15 minutes
---
Ingredients
2 organic butternut squash
Extra virgin olive oil, to coat
5 ounces bulk Italian sausage, see recipe
6 ounces brown rice, cooked - recipe follows
Salt and pepper to taste
2 ounces fennel, fine dice
2 ounces celery, fine dice
4 ounces yellow onion, fine dice
10 sprigs thyme, picked
3 to 4 pinches nutmeg
2 ounces bread crumbs
1 ounce liquid - water or stock
---
Method

Wash and dry the butternut squash. Halve each squash lengthwise. Place cut side down on a parchment lined sheet pan. Roast in a 350° F oven until done, about 45 minutes. Remove from oven and allow to cool until you can handle the squash.
Squash is done when you can insert a pairing knife through the skin and flesh with little resistance.
When the squash goes into the oven prepare the brown rice. (See Below)
Meanwhile, preheat a 10-inch skillet over medium heat. Crumble the sausage into the pan and cook until done while stirring to break up the sausage, about 5 minutes. Remove and set aside.
Add enough olive to lightly coat the bottom of the skillet you used for the sausage. Place over medium-low heat and add the fennel, celery, onion, thyme, and nutmeg. Season with kosher salt and cracked pepper. Stir to mix well and cook until the onion is translucent, about 5 to 7 minutes. Set aside until cool.
When the squash is cool enough to handle, gently remove the squash to a cutting board and discard the parchment paper. Replace with a clean sheet of parchment and arrange the squash cut side up on the parchment lined pan.
Combine the sausage, rice, onion mixture and breadcrumbs in a medium mixing bowl. stir to thoroughly incorporate. Season to taste with salt and pepper. If the stuffing is on the dry side add a little water or stock, you only want enough to slightly moisten it.
Preheat the oven, if needed, to 325° F. Divide the stuffing amongst the 4 halves of the squash, filling and mounding each of the halves. Return to the oven and bake until heated through, about 30 minutes.
---
Notes
I've said it before, grapefruit spoons work wonders for cleaning out squash.
This method of preparation is by far the fastest and easiest method for stuffing squash. However, it is possible to stuff raw squash and cook it off. If you make it that way there are a number of factors that change.
You need to cover the stuffing with foil, or it overcooks.
The cooking time for the squash itself more than doubles, from about 45 minutes to about 1 hour and 45 minutes.
---
---
Brown Rice
---
For more detailed instructions you can take a look at my brown rice recipe and my white rice recipe.
---
Yield: about 3 cups rice
Prep Time: 5 minutes
Cook Time: 45 minutes
---
Ingredients
1 cup medium grain brown rice
3 cups water
2 tablespoon extra virgin olive oil
1-1/2 teaspoon kosher salt
---
Method
Bring the water, olive oil, and salt to a rapid boil, in a 4-quart saucepan. Add the rice, stir to break up any clumping, and return to a full boil. Reduce heat to low and cover. Allow to cook undisturbed until  all of the water has been absorbed, about 45 minutes.
Remove from heat and allow to rest in a warm spot or low oven until ready to serve. Fluff with a fork immediately before serving.
---
Notes
Why the volume measurement? Rice seems to be the one thing I still use volume measurement for. In professional kitchens we didn't have a rice recipe, it was, "Make 15 cups of rice." It just works.
Tags: stuffed butternut squash recipe, roasted butternut squash recipe, how to cook butternut squash
---
---