Sweet Bread Recipe For Barbecue

---
---
---
I created this recipe to use for sandwiches like barbecue brisket and pulled pork, or really anytime you would want a sweet sandwich roll. It is really tasty and goes great with barbecue.
Best of all is that, it's very easy to make and comes out beautifully. The inside is nice and soft, yet it stands up to sandwiches that are dripping with sauce like brisket or pulled pork or rib sandwiches. As well the flavor and sweetness of the roll really complements barbecue sandwiches.

---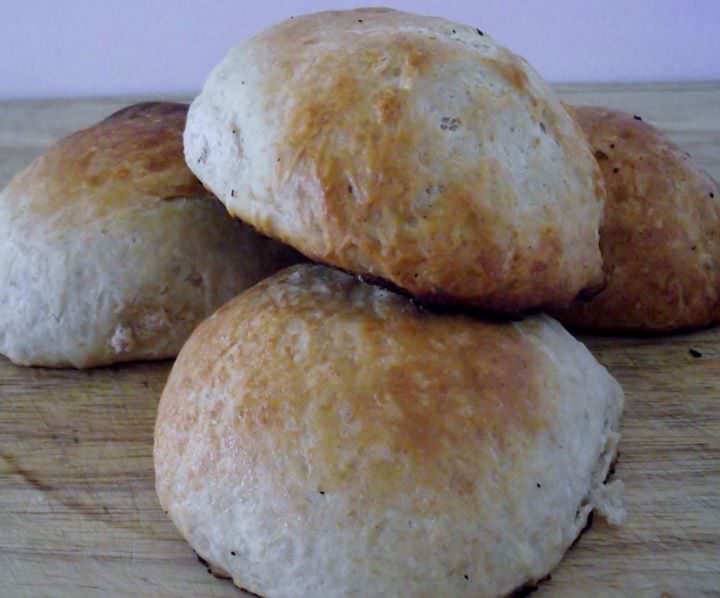 I used heavy cream to brush the top before going into the oven.

---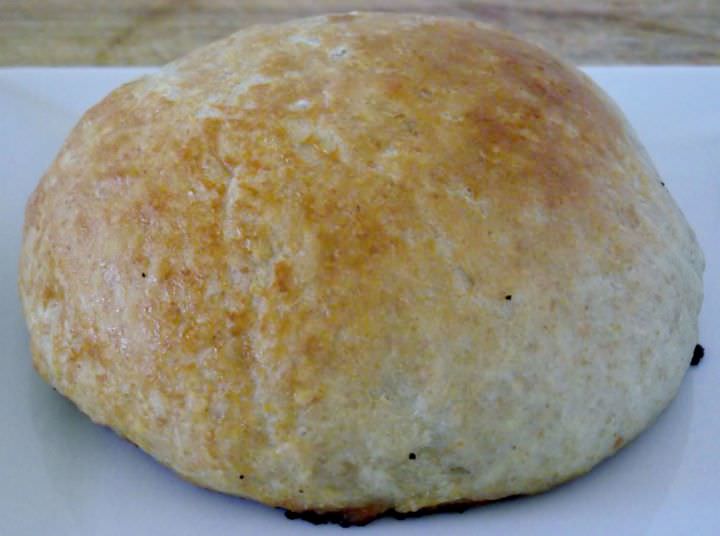 Sweet bread recipe for barbecue sandwiches.
---
A Deliciously Soft Sweet Bread Recipe
---
Yield:8 sandwich rolls or 16 dinner rolls
Prep Time: 30 minutes
Cook Time: 20 minutes
---
Ingredients
250 grams / 2 cups bread flour
125 grams / 1 cup AP flour
125 grams / 1 cup whole wheat flour
170 grams / 3/4 cups sugar
8 grams / 2 teaspoons active dry yeast
12 grams / 2 teaspoons salt
50 grams / 3-1/2 tablespoons butter
350 ml / 1-1/2 cups water
---
Method
Combine flours, sugar, yeast, and salt. Whisk to evenly distribute ingredients.
Cut the butter into small pieces, about the size of a pea. Using your fingers, work the butter into the flour until it turns into a course meal.
Add the water and stir to hydrate the flour. Let rest for 5-minutes.
Turn out onto a floured work surface and knead until a smooth dough forms, about 7-minutes.
Form dough into a boule, dust with flour, and cover lightly with film. Let rise in a warm place for about 2 hours, or until doubled in volume.
Punch down the dough and form into balls, for dinner rolls divide the dough into 16 pieces, for sandwich buns divide the dough into 8 pieces. Place on a parchment lined baking pan and let them rise until doubled.
Once the rolls are ready for the oven, gently brush the tops with melted butter or heavy cream. Bake at 400F, 10-15 minutes or until golden brown on top.
---
Notes
For the flours you really don't need to use 3 different types of flour. I did because, I wanted more gluten than AP flour alone will give you and I wanted some whole grain in the roll. Truth is, it would be really good just using half all purpose and half bread flour.
Just don't use all whole wheat flour or they will be too heavy.
If you choose to use butter to brush the tops, rather than cream, gently melt the butter first, without breaking the emulsion.
This is a 70% dough. What that means is the weight of the water content is 70% of the weight of the dough. As a consequence it si going to be more difficult to work with. When you knead a wet dough, it is more of a fold and turn process rather than kneading, in the traditional sense. As well, you will need to keep your work surface floured.
For the best results use a pastry knife. Scoop the dough with the knife and lift and turn, folding the dough back onto itself. Continue until the dough forms a smooth texture.

---
---