A Simple Tossed Green Salad

---
---
---
A tossed green salad is a great way to start or end a meal. It's good for you, tastes great, quick and easy to prepare, and will help you avoid over eating. 
You can prepare a a mixed green salad out of nothing more than some mixed greens and a simple vinaigrette, or you can dress it up by adding sliced onions, nuts, olives, capers, cheese, and most other vegetables, as well. It really doesn't get any easier.
---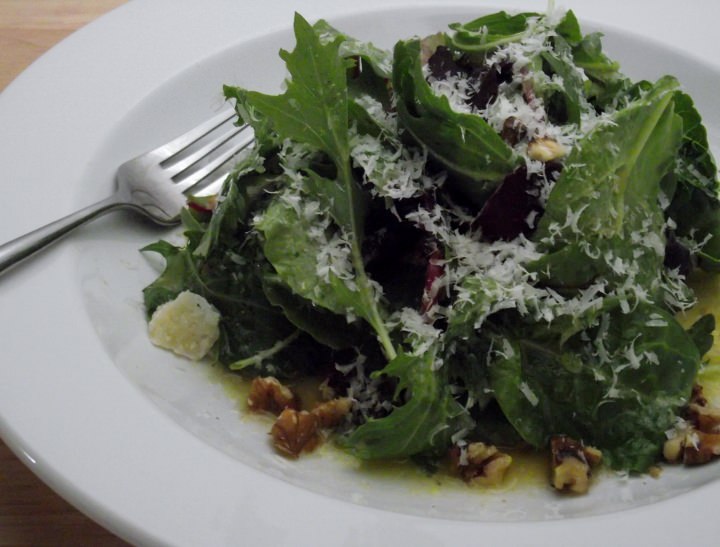 Mixed Green Salad With Walnuts And Shaved Parmigiano Reggiano.
---
A Tossed Green Salad Recipe That Will Pair With Any Dish
---
Yield: 2 servings
Prep Time: 10 minutes
---
---
Ingredients
4 cups mixed greens
1 lemon, juiced, about 2 tablespoons (30 ml)
Kosher salt and cracked pepper, to taste

6 tablespoons (90 ml) extra virgin olive oil
1-3/4 ounces (50 grams) toasted walnuts, about a half-cup
Shaved Parmigiano Reggiano, to taste
---
---
Method
Add the mixed greens to a large mixing bowl.
Add the lemon juice, salt, and pepper to a small bowl. Whisk to dissolve the salt. Slowly drizzle the olive oil into the bowl while whisking. Drizzle the vinaigrette over the greens, and toss gently. Plate in mounds on chilled salad plates.
Top each salad with some walnuts and sprinkle, or shave, the cheese over the top. 
---
---
Notes
This green salad recipe will pair well with any of the vinaigrettes.
You can substitute most nuts for the walnuts or omit them entirely if you have an allergy.
While I am partial to shaved Parmigiano, any hard grating cheese will work.
---
---