Veloute Sauce
---
---
---
A veloute sauce is simply a sauce made with stock and thickened with a roux. It  is very similar to béchamel, but you replace the milk with stock.
A roux is simply fat and flour.
Technically, this is not a gravy because gravy is made from the pan drippings after roasting meat.
---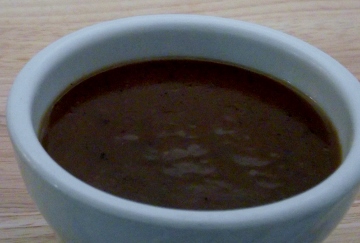 Rich and Velvety Veloute Sauce


Yield: 4 cups sauce
Prep Time: 5 minutes
Cook Time: 10 minutes
Total Time: 15 minutes
---
---
---
Equipment
---
---
Ingredients
2-1/2 tablespoons butter
2 tablespoons all-purpose flour
2 cups chicken stock
Kosher salt
Black pepper
---
---
Method

Melt the butter in the saucier over medium heat.
Once the butter is melted add the flour to the pot and whisk to mix until it forms a smooth paste.
Cook for about 3 to 5 minutes to cook out the pasty taste of the flour.
Meanwhile, In a 1-1/2 quart saucepan bring the stock to a low boil.
Gradually add the stock in a steady stream. Continue whisking and cook until the sauce comes to a full boil.
Remove from heat and pass through a strainer. Season with the salt and pepper, to taste.

---
---
Note
Starch thickened sauces will not achieve their full thickening potential until the sauce comes to a full boil.

---
---