Easy French Onion Soup
---
---
---
Onion soup has been eaten for thousands of years, recipes go back as far as the ancient Greeks and Romans. The recipes we use today descend from 17th century French bouillon, and can be found in cookbooks dating back to the Colonial days. In America, French onion soup had a resurgence of popularity beginning in the 1960's when French cuisine was being promoted throughout the US.
---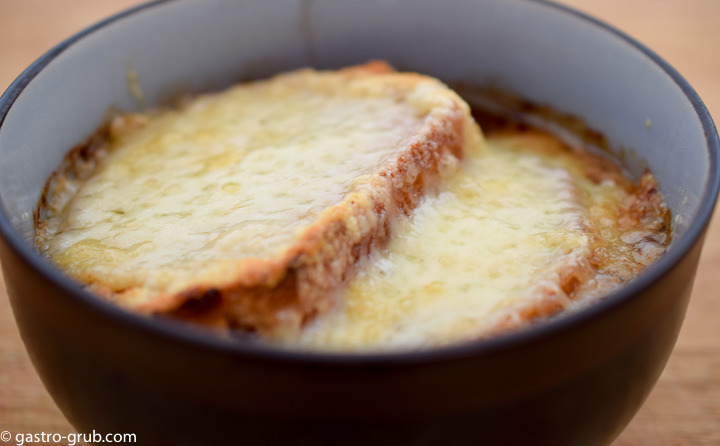 Easy French Onion Soup
---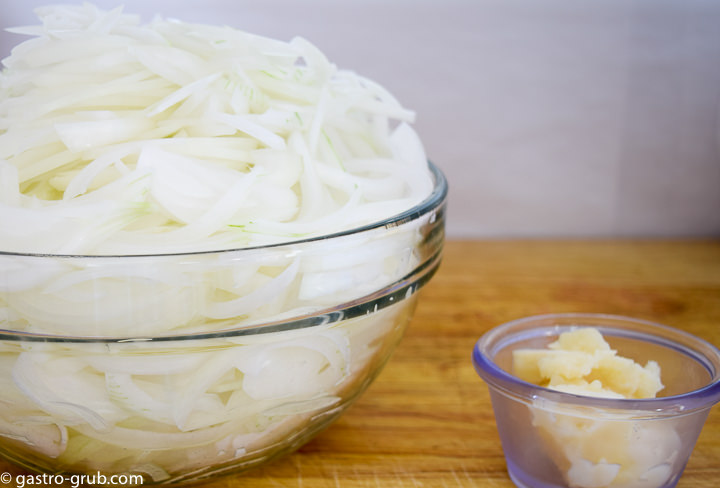 Onions and duck fat, the building blocks for an easy French onion soup recipe.
---
An Easy French Onion Soup And Homemade Country Baguette
---
Yield: 2 to 3 servings
Prep Time: 45 minutes
Cook Time: 4 hours
---
Ingredients

2 tablespoons / 30 grams duck fat
3 pounds / 1360 grams Spanish onions, about 7 onions, thinly sliced
Coarse salt
Freshly ground black pepper
3 to 6 slices baguette or country-style bread, large enough to cover your serving bowls
1/2 cup / 120 milliliters Red wine
3 cups / 710 milliliters beef stock
1 cup / 235 water
6 ounces / 170 grams Gruyere or Emmenthaler cheese, grated
---
Method

Place a 4-quart pot over medium heat. Add the duck fat and melt it.
Add onions and season with 2 teaspoons salt. 
Cover, and cook until onions have heated through and started to steam. Uncover and reduce heat to low; cook, stirring occasionally, until amber and cooked down, about 3 hours. Season with pepper. 
Meanwhile, preheat oven to 200º F / 95º C. 
Place bread slices on a baking sheet and transfer to oven. Let dry completely, about 20 to 30 minutes. 
Increase the onions to high heat. Once they begin to sizzle immediately add the red wine. Bring the wine to a full boil then add the stock and water and bring to a simmer. Immediately reduce heat to low and season with salt and pepper.
Preheat broiler. Divide soup evenly among 3 to 4 ovenproof bowls; top with toasted bread. Sprinkle the cheese over the bread slices making sure to divide evenly among bowls. Transfer bowls to broiler; broil until cheese is melted and browned, 3 to 5 minutes. Serve immediately.
---
Notes

If you read my roasted duck recipe you'll recall, I said to save the duck fat. If you haven't read it, or haven't made it, you can buy duck fat in higher end grocery stores and specialty food stores. 
If you can't, or choose not to get duck fat, you can substitute butter for the duck fat, but if you have duck fat or are willing to get it, I urge you to use it. It really adds a great flavor to the soup.
Stock makes the soup, period! If you start with great stock the soup is going to be amazing. 
The other critical component of French onion soup is caramelized onions. They are not hard to do but you must thoroughly caramelize them.
---
Country Baguette Recipe
---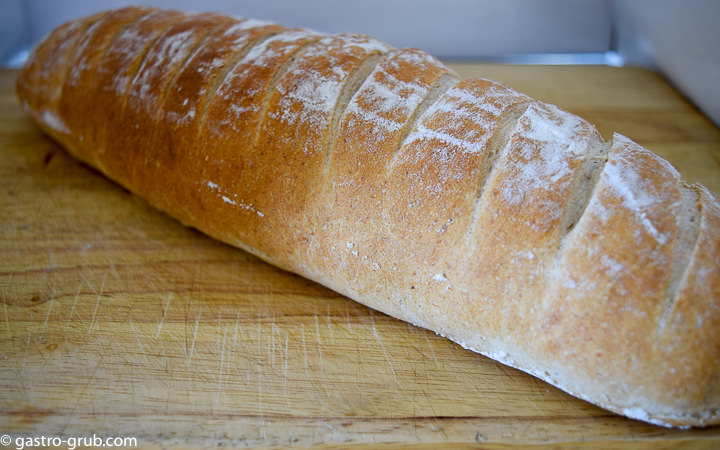 Country Baguette
---
Ingredients

100 grams whole wheat flour
300 grams all purpose flour
5 grams active dry yeast
10 grams kosher salt
5 grams sugar
260 grams water
---
Method
Combine the flour, yeast, salt, and sugar in a bowl. Whisk to mix the ingredients.
Add the water and stir to just combine. Let rest 10 minutes.
Turn out the dough onto a floured work surface and knead for 1 to 2 minutes. Form into a boule, dust with flour, and cover with a clean kitchen towel. Let rest for 15 minutes.
Continue kneading another 5 minutes.
Form into a boule, dust lightly with flour, and place back in bowl.
Cover with film and let rise until doubled in volume.
Turn dough out and punch down lightly.
Form the dough into a rectangle about 12 inches long by about 10 inches wide.
Starting at one edge roll the rectangle into a loaf and seal the seam by pinching.
Roll the dough back and forth to smooth out the seam that you pinched.
On a parchment lined sheet pan roll two clean kitchen towels into logs and place side by side about two inches apart.
Place the loaf on the sheet pan between the towels. Dust the loaf with flour and cover lightly with film. Preheat over to 425º F / 220º C.
Once the loaf has almost doubled in volume make slits across the top of the loaf, in a diagonal pattern.
Remove the loaf and immediately transfer the pan to the preheated oven.
Bake until the loaf reaches an internal temperature of 205º F / 96º C.
Transfer to a wire rack to cool completely before cutting.
Tags: easy french onion soup, baguette recipe, french onion soup recipe, classic french onion soup recipe
---
---