Easy Wild Salmon Recipes
---
---
---
Wild salmon vs farmed salmon, which should you buy? 
Apart from the fact that salmon is delicious, it is incredibly good for you. It is recommended to eat salmon twice a week for all of the heart healthy benefits it provides.
So, does it make a difference which kind of salmon you buy. It does indeed. Like cattle ranches, salmon farms are packed so dense that disease and infection are a constant battle.
Sea lice in particular are a real threat, and while there are some fish that pick up sea lice in the wild it is much less common and it doesn't infect whole schools. Salmon farms on the other hand, have to pump pesticides into the food supply to control the sea lice.
PCB's are another problem with farmed salmon. The levels run far higher in farmed salmon than in wild salmon, to the tune of 16 times more PCB's in farmed salmon than wild salmon.
There is no question, salmon is good for you. However the farmed stuff is higher in contaminants, and flame  retardants. In addition farmed salmon has twice the fat of wild salmon.
If this doesn't motivate you to buy wild salmon, get ready, genetically modified salmon, or transgenic salmon, is on its way. The company, AquaBounty, is in the approval process with the FDA.
So, always opt for wild salmon.
---
Two Wild Salmon Recipes - Brined Salmon And Seared Salmon
---
These are easy salmon recipes anyone can make. The salmon comes out so nice and crisp and with the beurre blanc sauce it is so delicious. As well, the beurre blanc pairs really well with the sauteed greens. It's just a perfect combination.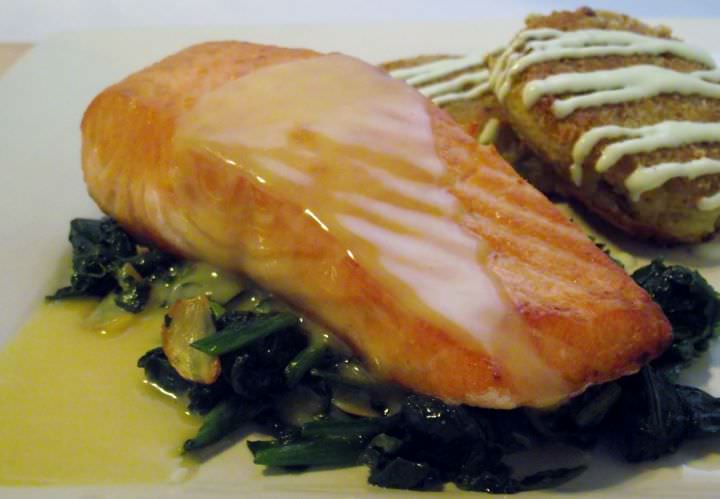 Seared Salmon with beurre blanc on top of sauteed greens and potato croquettes with green onion aioli.

---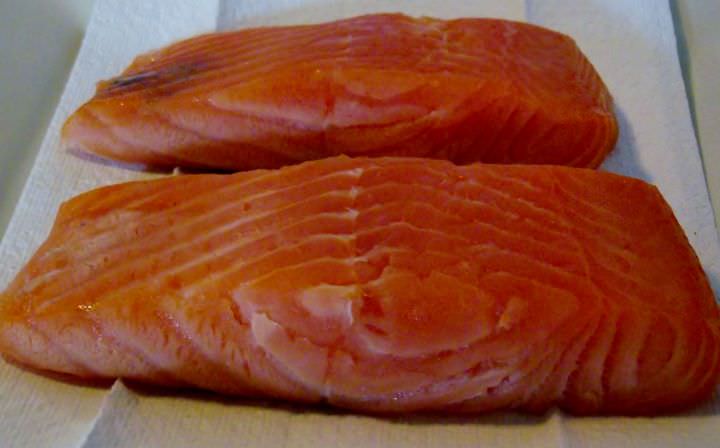 Brined and air dried salmon fillets, resting on paper towels to prevent any moisture buildup, between the salmon and the plate.

---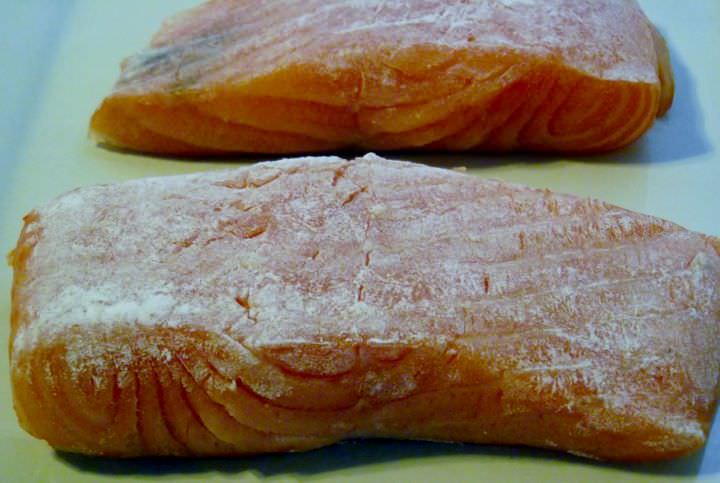 Dredge the salmon fillets in the flour on the presentation side only. Tap to knock off any excess flour.

---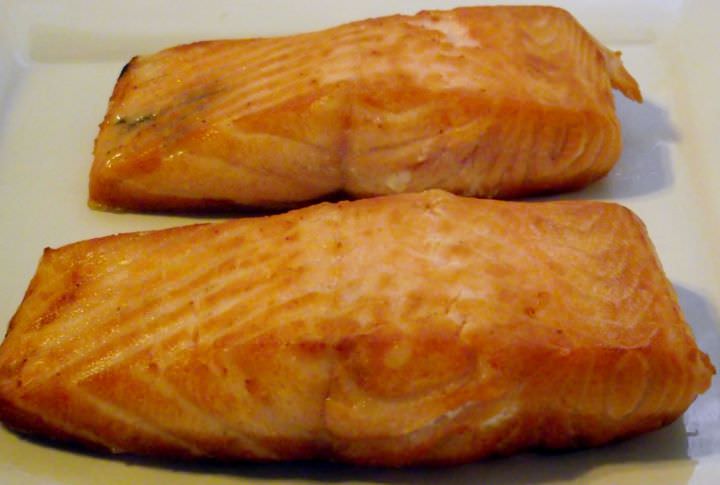 Look at that golden brown color, beautiful.
---
An Incredibly Simple Recipe For Salmon
---
Yield: 2 servings
Prep Time: 5 minutes
Cook Time: 5 minutes
---
Ingredients
2 wild salmon fillets, brined
ap flour to dredge
---
Method
Dredge the salmon fillets in the flour on the presentation side only. Tap to knock off any excess flour.
Cook over medium-high heat until golden brown. turn and finish. blot on paper towels and hold in a cool oven.
---
Notes
These wild salmon recipes are very easy and only require a minimum amount of planning. Give them a try, you'll be gald you did.
---
---
Salmon Brine
---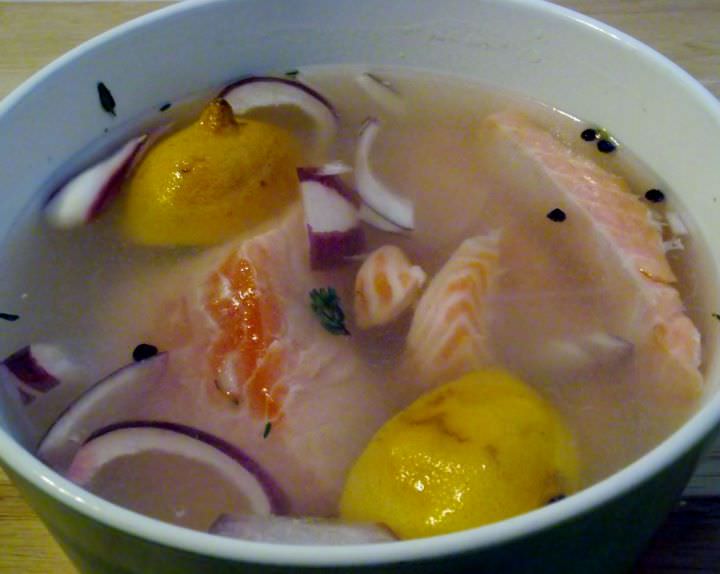 Salmon after 24 hours in brine.
---
Yield: 2 brined salmon fillets
Prep Time: 40 minutes
Brining time: up to 24 hours
---
Ingredients
1.2 liters / 5 cups water
45 grams / 1.5 ounces / 1/4 cup Kosher salt
30 grams / 1 ounce / 2 Tbsp sugar
10 ml / 2 tsp lemon juice
30 ml / 2 Tbsp olive oil
5 sprigs fresh thyme
1/4 yellow onion, chopped
4 cloves garlic, peeled and crushed
1 tsp cracked black pepper
---
Method
Prepare an ice bath in your sink.
Add the water to a 3-quart pot. Bring to a full boil and add the salt and sugar, stir to dissolve, and return to a boil.
Remove from heat and place in the ice bath. Add the remaining ingredients. Stir occasionally to dissipate the heat. Add more ice to the bath as needed to bring the temperature to 40° F / 4° C.
Add the fish to the brine. You may need to place a small plate on top of the fish to completely submerge it.
Brine in the Refrigerator overnight, 24-hours.
About an hour before you're ready to cook the fish remove it from the brine and rinse thoroughly under cold running water.
Blot the fish thoroughly with paper towels until dry. Place the fish on a cooling rack and allow to air dry on the counter for 45 minutes to an hour.
---
Notes
---
---
tags: wild salmon recipes, easy salmon recipes, recipe for salmon, salmon brine